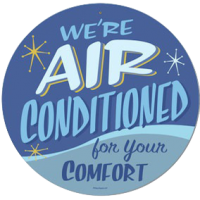 11am Worship – Temporary Location Change!
June 8, 2018
Change of 11am Worship Location
---
Unfortunately the air conditioning on the main floor will take 6-8 weeks to replace. Because of the heat, the 11 am worship service will move temporarily to a much cooler Fellowship Hall beginning Sunday, June 17. The 11am order of worship will remain the same. We are very sorry for this inconvenience. It is hoped that the air conditioning will be installed by late July/early August.
Back