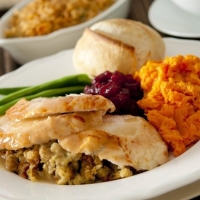 All-Church Thanksgiving Dinner
November 16, 2018

All Church Thanksgiving Dinner
Sunday, November 18, noon
---
We've much to be thankful for. Join us for this King Avenue traditional meal following the 11:00 o'clock service. All are welcome around the harvest table!
Thanksgiving Menu:
Herb Roasted Pork loin
Mashed Potatoes and Gravy
Oven Roasted Vegetables
Turkey Stuffing
Vegetarian Stuffing
Vegetarian Entree
Cranberry Sauce /Relish
Are you able to Volunteer?
As in the past, it takes lots of volunteers to make this large event a successful one. We are seeking kitchen volunteers. If you're able to volunteer, please email Steve at expect.sh@gmail.com. Food prep in the kitchen begins on Sunday Morning at 8:30am. In addition, we also need assistance during lunch service, and for clean-up.

Could you bring a pie?
We appreciate pie and other dessert donations, too! You make the All Star Dessert Buffet the grand finale' to a wonderful meal and warm time of fellowship.
Back