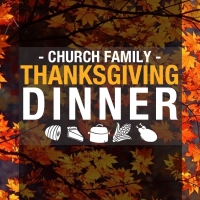 All-Church Thanksgiving Luncheon
November 3, 2019

All-Church Thanksgiving Dinner - November 24
---
We've much to be thankful for. Join us for this King Avenue traditional meal following the 11:00 o'clock service. All are welcome around the harvest table!

Are you able to Volunteer?
As in the past, it takes lots of volunteers to make this large event a successful one. We are seeking kitchen volunteers. Food prep in the kitchen begins on Sunday Morning at 8:30am. In addition, we also need assistance during lunch service, and for clean-up. We'll post sign-ups on the Spectrum Facebook page and Realm for the various shifts available. We'll be needing TONS of help, so please consider giving some of your time to this fantastic yearly event.

Could you bring a pie?
We appreciate pie and other dessert donations, too! You make the All Star Dessert Buffet the grand finale' to a wonderful meal and warm time of fellowship.
Back