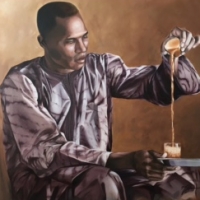 Art Gallery - NEIGHBORS, Paintings by Eric Mize
August 25, 2018

Neighbors
Paintings by Eric Mize
September 2 – October 28
Gallery Talk on September 23 at 10 a.m.
---
About the Neighbors Series:
Throughout much of the world, the glory of a given culture often stands in disturbing contrast to the plight of its people. So much depends on one's eye in finding tragedy or finding wonder to celebrate. This dissonance is at the core of the "Neighbors" series. It is an exploration of the bizarre balance between desperation and dignity.

The subject of each painting in this series represents a particular "at-risk" people group. Each piece is intended to first celebrate the uniqueness and wonder of the culture before drawing attention to the dilemmas. In the statement beside each piece, you will find information about one nonprofit organization seeking to engage and assist that particular group. Most organizations meet basic needs or do development work, while others seek to end injustice, provide medical care or address spiritual needs. Some of the agencies reflect the artist's own convictions, but this is a venue for everyone, regardless of background or interest. Providing viewers with an opportunity to engage in some way is essential to the show. But, for most, this is an opportunity to reflect, dialogue, and connect with information to consider later.

About the Artist:
So much of our new-century digital lifestyle drains us. My goal is to create visuals that nourish and enrich. Having long earned a living as an electrical engineer and team leader in the tech industry, I'm in a transformational life season, allowing me pursuits that align with my convictions, passions, and gifting. More than a decade ago, life brought me to central Ohio. There, I've had the privilege to see my children grow into two fine young men and where I still share life with my bride.

About the time we came to Ohio, my eyes were opened to a more global view. I learned that more human beings live in bondage now than have ever been enslaved in all history – 1 in 6 people of the earth don't have safe water to drink - 40% of the world's population live on less than $2 a day – and 1/3rd of humanity doesn't have access to the spiritual message that so profoundly shapes my life. So, I found myself driven to explore tangible connections with the people that inhabit the developing world. Short trips, some non-profit work, and engagement at a local refugee-centric community center have brought new friendships and discoveries. It is this joy of finding personal connections with people of exotic traditions, faiths, and cultures that I'm trying to put to canvas now.
Back