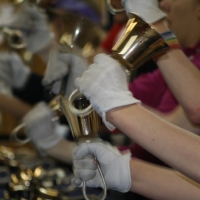 Beginning Handbell Class
July 14, 2017

Beginning Handbell Class
---
Want to learn to ring handbells?

A class for beginners will be held on Tuesday evenings throughout August from 6:30-7:15 PM in the Bell Choir room at the church (2nd Floor). While some music reading experience would be helpful, it is not necessary. The goal is to introduce you to the art of ringing bells and chimes in a relaxed setting.


All ages are welcome!

Space is limited. Please contact Chris McManus, Director of Music, to indicate your interest. Email cmcmanus@kingave.org or call 614-424-6050 ext. 106.
Back