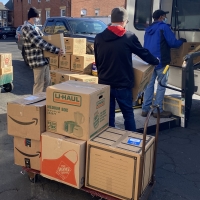 Bethlehem on Broad
October 23, 2021

Bethlehem on Broad Street
---
There are lots of different ways to mark the holiday season and there is no better way to celebrate the birth of Christ than through Bethlehem on Broad Street. Bethlehem on Broad Street began 30 years ago in response to a single request for dinner on Christmas Day at the St. Lawrence Haven. The event has expanded to several thousand guests each year through the efforts of churches of different denominations, different faiths, and organizations on and off Broad Street.

On Saturday, December 11, 2021, Bethlehem on Broad will provide food boxes with gift certificates for sundries from 9:00 a.m. to 4:00 p.m. at the Broad Street United Methodist Church, 501 E. Broad Street. This year King Avenue has committed to providing 150 boxes and a team of volunteers for the event. This will be an outdoor event with drive thru service to those in need. If you are interested in volunteering, please contact Shawn Compton at comptonlaw@msn.com. Boxes will be available in the Fellowship Hall beginning Sunday, November 7th

All boxes must be filled and returned to King Avenue's Fellowship Hall by Wednesday, December 7th so that they can be delivered to Broad Street UMC for distribution.

Below is the list of supplies for the food boxes.
CLICK TO DOWNLOAD the Bethlehem on Broad Shopping List
IMAGE FROM COLUMBUS DISPATCH ARTICLE "Downtown Church's Bethlehem on Broad Offers Meals, Clothing and Purpose to Christmas Seekers" December 2019.
Back