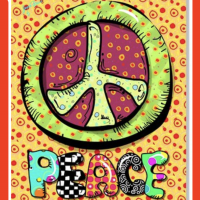 Bill Cohen's 1960's Coffeehouse
October 14, 2022
Bill Cohen's 1960's Coffeehouse Returns to King Avenue after a 3-year COVID Hiatus.
---
Civil rights sit-ins. Bell-bottoms. Anti-war marches. Student Power. Afros. Mini-skirts. Hippies. Riots. Space flights. The generation gap. Those hallmarks of the turbulent 1960's will be rekindled Friday November 11 at this year's "Spirit of the '60's Coffeehouse" in the church basement, where it's been an annual tradition for some 20 years (except when Covid made us cancel it). Bill Cohen will lead a candlelit, musical, year-by-year journey through the era, with live and familiar 1960's folksongs, "news reports" of sixties happenings, displays of anti-war buttons and posters, and far-out sixties fashions. Plus, Bill will challenge the audience with fun sixties trivia questions.
Proceeds from the suggested $15 donations (at the door) will go to the Mid-Ohio Food Collective.
The show begins at 7:30 pm, but get there early for a good seat. The program is suitable for ADULTS and MATURE TEENS. Over the past 35 years, Bill has performed the show more than a hundred times at colleges, churches, synagogues, conferences, high schools, and middle schools across Ohio and beyond.
For more information, call Bill at (614) 263-3851 or e-mail BillCohen@columbus.rr.com

Image credit Flikr - Jacque Davis, Peace Sign Art
Back