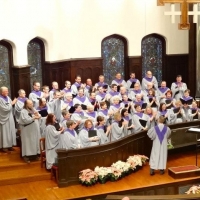 Calling All Singers!
August 30, 2019
Calling All Singers!
---
Our Chancel Choir begins a new season on Sunday, September 8. We would love to welcome new singers to join our group. The choir sings each week at the 11 AM service as well as special services throughout the year. We rehearse on Thursday evenings from 7:30-9 PM. We sing a variety of music, from Renaissance to gospel and spirituals. Most importantly, we serve as a ministry, creating bonds of friendship through our music, prayers and other fellowship opportunities.

Interested singers should contact Chris McManus, Minister of Music, for further details. Email cmcmanus711@gmail.com or call 614-424-6050 ext. 106. See you in church!
Back