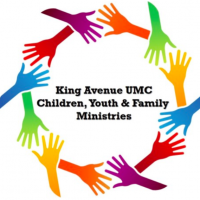 Children, Youth, & Family Ministries - Summer 2019
May 31, 2019
Mark Your Calendars for These KACYFM Events
Fri - Sun, June 7 - 9: Youth Annual Conference at Lakeside
Sat, June 15 at 10:30: Step-Off Columbus LGBTQ Pride Parade
Sat, June 15 at 5:30: Post-Pride Family Fellowship Party at the home of Shannon & Andy Poole
Fri, June 21 from 6-8:30: Parents' Evening Out
Sun, June 30: NNEMAP Back-to-School donation
Fri, July 5: Registration ends for King Avenue Camp at Camp Otterbein
Mon - Fri, July 8- 12: Youth Week of Service
Fri - Sun, July 19 - 21: King Avenue Camp at Camp Otterbein
Fri - Tues, July 19 - 23: Sr. High Youth Peace with Justice Trip to Washington DC
Fri, July 19: Registration Deadline for Vacation Bible School
Fri, July 26: Parents' Evening Out
Mon - Fri, July 29 - Aug 3: Vacation Bible School
Worship Connections will return in August and Sunday School will return in September. Have a great summer!

SUMMER FAMILY FELLOWSHIP
---
June Event
When: Saturday, June 15th at 5:30pm
Where: The Home of the Poole Family (address on Realm event)
What: Spend a few hours hanging out with your King Avenue family at the home of Andy, Shannon, Ella & Ethan Poole. Hot dogs will be provided, but bring a side dish to share. Each family should provide your own drinks and lawn chairs. RSVP on Realm event by Wed, June 12th if your family can join us!Address and contact information for the party on Realm event.

If your family is interested in hosting or co-hosting a King Avenue Summer Family Fellowship Event in July or August – let Erin know! You choose the date and activity. Sctivities must be appropriate for all ages. Contact Erin with questions or to reserve your date.


GET YOUR HANDS DIRTY!
---
Join other King Avenue Families to work together to keep our church looking great by caring for a flower garden located just outside the West doors (in between the King Avenue parking lot and the Neil Avenue parking lot). Sign up on Realm for a week check on it (sign up link available in your Realm newsfeed under King Avenue Family Flower Garden & on KA Facebook pages.)

REGISTER FOR VACATION BIBLE SCHOOL
---
Registration is open now for Vacation Bible School! VBS is designed for kids age 4 - Gr. 3. July 29-Aug 3 from 6-8:30pm. Activity leaders, group leaders and youth assistants starting at Gr. 4 are encouraged to sign up to be a part of the fun! This year's theme is Fruits of the Spirit. Invite your friends! Sign up on Realm through July 19th. See Erin or Gwen for more information.


REAL PEOPLE - REAL PARENTING
---
While we are on break and enjoying the summer, catch up on Chip Richter's podcast at rootsandwingspodcast.com, check out progressive Chris an writer Cindy Wang Brandt's blog at cindywangbrandt.com/blog or take in a book recommended by beloved author Rachel Held Evans at rachelheldevans.com/blog/summer-reading-2016. See you on September 9th!


DOWNLOAD THE KACYFM SUMMER 2019 FLYER
Back