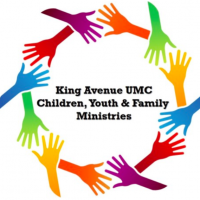 Children, Youth, and Family Ministries - May 2019
April 27, 2019

KACYFM Happenings:
Download the May 2019 Flyer for KACYFM

May KACYFM Events of Note
Sun, May 5, 12-2:30pm: Youth Group (Lunch & Set-up Rummage Sale)
Fri, May 10, 6-8:30pm: Parents' Evening Out

Sun, May 12, 9am & 11am: Confirmation Sunday

Fri, May 17, 6:30-9:30pm: Youth Friday Fun Night
Sun, May 26, 9am & 11am: High School Graduation Recognition
Sun, May 26, 9am & 11am: Last Day of Sunday School & Worship Connections before Summer
Sun, June 2: Summer Camps Begin!
Fri-Sun, June 7-9: Youth Annual Conference at Lakeside

Sat, June 15, 10:30am: Step-Off Columbus Pride Parade
Fri, June 21, 6-8:30pm: Parents' Evening Out

Sun, June 30, 9am & 11am: NNEMAP Backpack Drive Begins
Real Parenting Small Group: May Topics
May 5: The "REFLECT & RELATE" Series: The Resurrection - Part 2

May 12: The "WORDS OF FAITH" Series: Grace

May 19: The "WORDS OF FAITH" Series: Hope

May 26: The "WORDS OF FAITH" Series: Spirituality
Discussion Materials are provided weekly. No prep ahead. Just drop in! All are welcome!

High School Graduate Recognition
Do you have a High School Student graduating this year? If so, please be sure to let Erin or Pastor Colleen know so we can celebrate them during worship on Sunday, May 26th!

Flower Garden Keepers
GET YOUR HANDS DIRTY! Join other King Avenue Families to work together to keep our church looking great by caring for a flower garden located just outside the West doors (in between the King Avenue parking lot and the Neil Avenue parking lot.) King Avenue families are invited to sign up on Realm for a week or two between June - September to check in, weed and water the garden during the week they select. Garden tools will be provided, if needed. Just let Erin know and she'll make sure you've got what you need!

Summer Fellowship Activity Hosts Needed
If your family is interested in hosting or co-hosting a King Avenue Summer Family Fellowship Event in June, July or August– let Erin know! You choose the date and activity. Activities be appropriate for all ages. Contact Erin w/ questions or to reserve your date.
Back