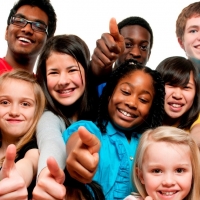 Children, Youth, Family Ministries - October 2017
September 22, 2017
Make note of the October events for King Avenue Children, Youth, and Family events.

Youth Pizza & Changing the Conversation
Sunday, October 1, 5:30-9pm
Fellowship Hall

Youth Friday Fun Night
Friday, October 6, 6:30-9:30pm
Rockin' Jump Westerville Trampoline Park

Youth Service Project: Fall Rummage Sale Set-up
Sunday, October 8, 12-2:30pm
Fellowship Hall

Family Pride Network Annual Conference & Resource Fair
Saturday, October 14, 10am-2pm
The Childhood League Center at Fort Hayes Annual event will include programming on pathways to parenting, a resource fair and fun activities. Check out more details for this event on Realm Connect. Presented by The Family Pride Network.

Parents' Evening Out
Friday, October 20, 5:30-10pm
Nursery (Upper Level) Drop your kids off, meet up with other King Avenue parents for a quick dinner and come back to KAUMC to see the King Avenue Players present The Fantastiks! It will be a fun night to get to know other King Avenue Parents! Space is limited. This month's PEO is free of charge, but registration is required through Realm Connect. Children up to age 9 are welcome.

Confirmation 2018 Orientation Meeting
Sunday, October 22, 12:00-1:00pm
Donnenwirth Lounge

Trunk or Treat!
Sunday, October 29, 1-2:00pm
South Parking Lot Immediately following the All-Church Lunch, King Avenue Kids & Friends up to Grade 5 are invited to "Trick or Treat" in the KAUMC South Parking lot and enjoy fun activities. Adults must attend with their children. All-Church participation is encouraged by providing a festive Trunk of Treats for the event. See Erin for details and to sign up for a space for your car!


Back