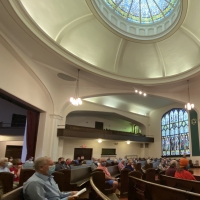 COVID-19 Safety Protocols
May 29, 2021

COVID Safety Protocols
As we continue to live through this ongoing pandemic, we are aware that many of the safeguards which have been a part of our daily activities are being lifted or are changing. King Avenue Church is maintaining our commitment to safety within our church.
Facial coverings are required to be worn over the nose and mouth by anyone over the age of 2 years old when you are inside the church building. We feel strongly that it is inclusive behavior to provide a safe environment for all people who enter our doors including those who are unable to be vaccinated (i.e. children under 5 years old) or are considered immunocompromised or vulnerable persons. We will continue to protect them by wearing masks when we come together for worship until our area has reached a lower number of Covid-19 cases and the vaccination rate has increased significantly in our state.

Seating arrangements are 3 feet between households. This will allow us to welcome more people back into worship, which is a trend we are very happy to see occurring. If we reach capacity in the worship spaces, we will offer overflow seating in other rooms of the Church with livestream of the service available.

Communion is offered during worship. As you are seated by the ushers, you will receive pre-packaged elements of which you will partake in your seats during a designated time during the service. You will be asked to take the packaging with you to dispose of as you exit the building after service.

Please refrain from bringing food or drink into the Church.

We encourage you to continue your diligence of hand-sanitizing and appropriate social distancing when you are at King Avenue.

If you are not feeling well, please stay home and join the livestream of the worship service. You can access the livestream on the King Avenue United Methodist Church YouTube channel. We will continue to livestream the worship services at both 9am and 11am.

The west and south entrances will continue to be the only entry/exit points to the Church. Doors will open 15 minutes prior to the beginning of each worship service.

Parking is available in our west and south parking lots and street side in the neighborhood on Sundays. As the need for additional parking increases, we will announce when parking will be available in the OSU lot on Pennsylvania Avenue.
We can see real strides towards the finish line for this pandemic, but we are not there yet. Let us all do our part to keep each other safe, healthy, and able to worship together in-person. If you have any questions, please feel free to ask a staff member or a Pastor. Stay safe and we'll see you at Church!

With Blessings and Thanks,
The Staff of King Avenue United Methodist Church
Back