Crazy Quilt Mural - Sheryl Lazenby
September 9, 2017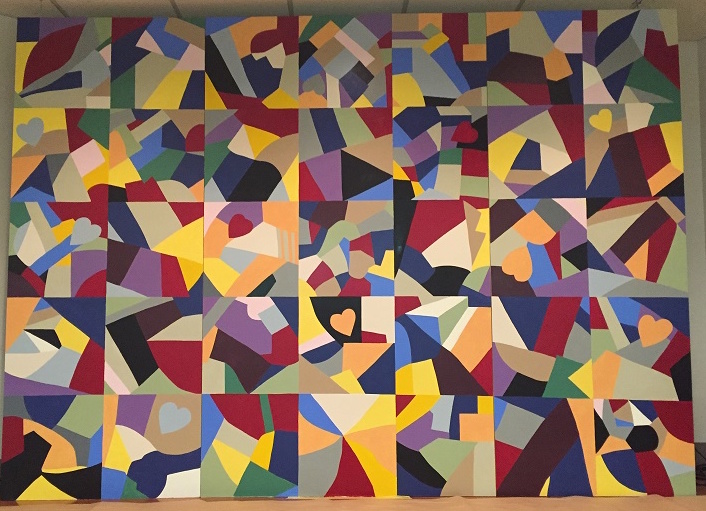 New Mural Graces Morning Blend Worship Space: The Story of the Crazy Quilt
---
The first time I came to church at King Avenue, I attended the downstairs 9 o'clock service. I remembered thinking it odd that there was a draped sheet behind the musicians at the back of the stage that read simply, Worship.

Many Sundays turned into a year of Sundays then into several years of Sundays. Each Sunday, however, I had the same thought. There must be something better that can go back there. Something that reminds us of who we are and why we are gathered here. I am an artist, what can this be? The upstairs sanctuary has such beautiful stained glass windows. Perhaps it would be nice to recreate those windows on the back wall behind the stage. No, that is too formal for this group. So I waited for my epiphany to reveal to me what should be there. Every Sunday I waited and trusted it would come.

In January of this year, Colleen brought in a beautiful quilt to serve as a visual background for her sermon. I can tell you that as soon as I saw the quilt, I was immediately lost in thought. This crazy quilt with all its different colors, many pieces, shapes and sizes said to me, this is who we are. We are all different. We are young, old, men, women, children - we are different races and have different backgrounds. We are small, we are tall, we are round, we are slim, and somehow - we manage to fit together. And as our pieces fit together we make a block. When all our blocks come together we make ourselves one. One. One in the Body of Christ.

I know - I will paint a crazy quilt mural.
---
The mural could not be painted directly onto the back wall behind the stage. There is a large sound system access panel that would interrupt the image. It was decided that a false, moveable wall would be built. Stan Sutton was tasked with the job of designing the wall and figuring out how it could be attached to the stage. His final design includes 4 panels that lock together to create the finished 11' x 8' wall. He installed the false wall on Thursday, May 18. That afternoon, I had primed the panels, measured and gridded the blocks, and drawn in the shapes of the quilt. I started painting on Saturday morning.

Sixteen trips to King Avenue and over 60 hours of work later, that beautiful mural smiles at all of us and reminds us of who we are when we come together. We are One in the Body of Christ.
Sheryl Lazenby is the owner of SmartDog Design. She is an artist, graphic designer, and photographer living in Columbus, OH. She is a founding member of the Ohio Chalk Art Guild, a member of the Central Ohio Plein Air group, the Ohio Pastel Artists group, the Ohio Art League and the Worthington Art League. She has shown her work here in the King Avenue art gallery and in other galleries around Columbus.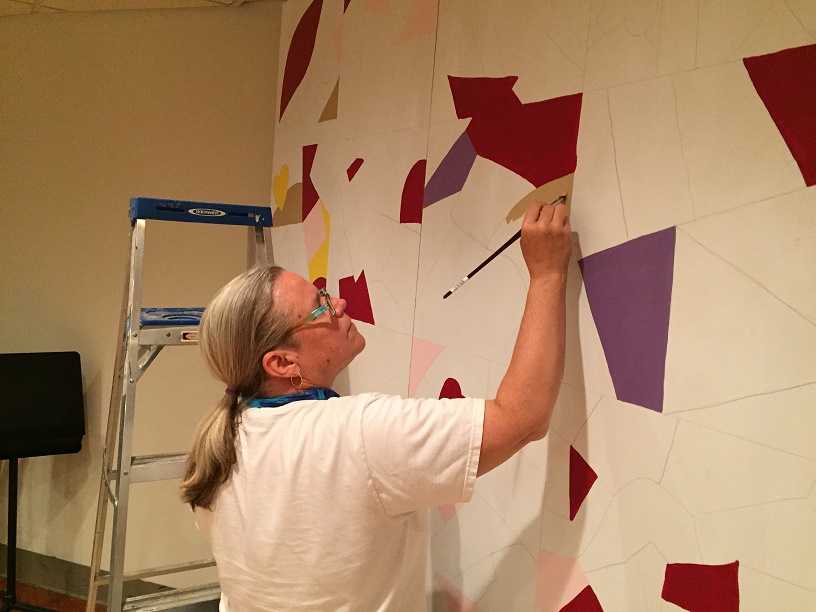 Back