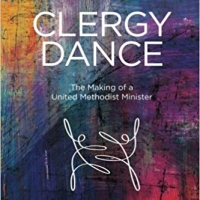 Grayson Atha - Book Signing
June 17, 2017
Grayson Atha, a long-time pastor at King Avenue prior to John Keeny's arrival, has just written a book about his experiences. He will be at King Avenue for a book signing. Join Grayson in the Parlor on Sunday, July 25 from 12:00-1:30, and Wednesday, July 28 from 5:30-7:00.

Description of the Book from Amazon...

The Clergy Dance is a story of a person who it seems by mistake began his journey. The dance began on a very conservative dance floor in a small town, where dancing was forbidden, and continued in rural as well as urban settings. It continues through encounters with civil rights; to a cross-racial appointment; an accusation of assault; through leadership of a church where people who were Lesbian, Gay, Bisexual, and Transgender could be seen but not heard; the author was fired from that church, but then offered his job back and returned to a warm reception—and helped hang a 30-foot banner on the church tower that said, "Experience worship as God intended; "ALL are welcome here."

Whichever you believe, or don't, about the church, religion is about people loving other people. It's about congregating, eating, people smiling, babies crying, marriage, divorce, and death. It's about strengthening your faith, and questioning your faith—sometimes all in the same breath. It's about being angry, and about questioning God and the state of our world, and then it's about realizing that we must continue to move forward to help soften the blows of life for those around us. Church is about sanctuary. About peace. About love.

This dance has victories, and defeats. It shows one man's journey to minister to people amidst the smiles, tears, marriages, divorces, deaths, lots of crying babies, and his own questions about the church, the ministry, and his own "call." It's about a person who doesn't have all the answers about God, or religion, or miracles, or tragedies. It's about a person who realizes that we must keep dancing with each other, our neighbors, our friends, our communities, our world, and our faith, in order to find the answers.
Back