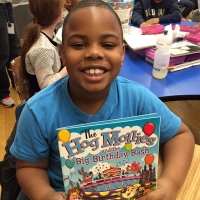 Hubbard Elementary School Partnership
August 30, 2019
Hubbard Elementary School Partnership
---
King Avenue UMC has a partnership to support children in public education with Hubbard Elementary School. Hubbard Elementary School located just one mile from our door, is home to approximately 350 students, ranging from pre-K through 6th grade.

We support the school in various ways throughout the year—with teacher appreciation activities, supplying needed materials, providing drama enrichment, Christmas presents for needy families, classroom support and more. The heart of our partnership is a tutoring program. KAUMC tutors meet with approximately 30 children who need extra help with homework, memorizing math facts, or reading practice every week. Tutors meet with students in the school library at the same time each week, in half hour segments of time—generally on Thursday and Friday mornings. Tutoring will start in October.

If you have not been a tutor in the past and would like to become one this year, please email colleen@kingave.org by September 15 and ask for more information.
Back