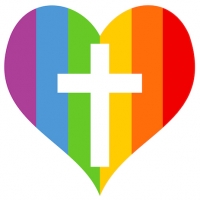 June is PRIDE MONTH!
May 31, 2019

SPECTRUM News for June 2019
Welcome to Pride Month! Your Spectrum team has been busy getting ourselves ready for all of the joyful chaos that comes along with PRIDE. Keep reading for news about our upcoming events!

Pride Luncheon
The upcoming SPECTRUM All-Church Luncheon will take place on June 9, 2019. Come on down after the 11:00 service and enjoy a meal fit for queens! We could use some culinary volunteers, so sign up on Realm, on our Facebook page, or on the back of the "Welcome" card.

Pride Worship
This year's Pride worship service will be held at Maple Grove Church (corner of W. Henderson and N. High Street) on June 14, 2019, 7:00 p.m.

Pride Parade
King Avenue LGBTQI and Allies will be marching in the Pride Parade again this year! What a powerful witness we can provide to share that God's love is for ALL! Stay tuned for information regarding step-off location and meeting time.

Pride Festival - RMN Booth
The Reconciling Ministries Network will be hosting a table for the Pride Festival. We are in need of volunteers! Please take a look at the Google Doc link, and sign up on it for a time slot.
SIGN UP HERE

Changing the Conversation Series 2019
Mark your calendars for the Changing the Conversation Series. On October 12 & 13, King Avenue welcomes author Austen Hartke, a transgender person of faith whose greatest passion is helping other trans and gender non-conforming people see themselvels in scripture.
DOWNLOAD FLYER

Other upcoming events:
"Christmas in July" Family Movie Night, July 20, 6:00 p.m. (Voting to begin soon for the movie we'll be watching! This will be a family-friendly event.)

Tupperware Party with Dee W. Iye, August 16, 2019, tentatively scheduled for 6:30 p.m. (Childcare will be available; further details, including RSVP info, are forthcoming.)
Parting Thought...
And one final thought before we head off to a month of glitter, unicorns, confetti, and Donna Summer music: "When you reduce life to black and white, you never see rainbows." Happy Pride, you beloved rainbow-bedazzled children of God.
Back