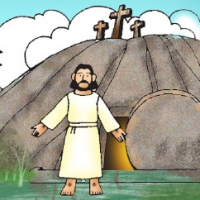 KACYFM Easter Happenings & More!
March 19, 2017

Saturday, April 8 at 10am
Eggstravaganza 2017 - Fellowship Hall, Chapel, Parlor & Classrooms
Come join in a festive celebration with Easter Activities, Games and an Easter Egg Hunt with a King Avenue twist! Open to all King Avenue Families and Friends ages 4-Grade 5. This will be a family event and participation with your children is required.

Sunday, April 9 at 11am
King Avenue Kids are invited to help pass out palm branches at 11am worship King Avenue Camping Ministry Special Offering and Camper Witnesses at 9am & 11am services

Sunday, April 9 at 12pm
West Ohio Camps Informational Luncheon - Fellowship Hall

Friday, April 14 at 7pm
Good Friday Worship led by the King Avenue Youth at King Avenue UMC, Sanctuary

Sunday, April 23
College Graduate Recognition Sunday at 9am & 11am services

Sunday, April 23 at 11am
King Avenue Kids will sing during worship - "Hosanna Rock" All kids ages 4- Grade 5 are welcome to participate! Song is available on King Avenue Children's Ministries Facebook page to practice at home. http://www.worshiphousekids.com/audio-tracks/40130/hosanna-rock

Sunday, April 23 at 12pm
King Avenue Youth Trial of Jesus - Chapel, Main Level The King Avenue Youth will be presenting a trial of Jesus to determine whether he should be crucified for crimes such as insurrection and others. Court-room style proceeding with a judge, prosecutors and defense attorneys, witnesses and YOU are the jury. All are welcome to join us for this interesting perspective on one of the most influential decisions of criminal execution in our world's history.
Back