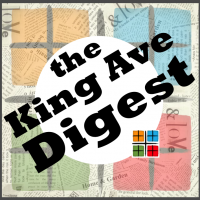 King Ave Digest - Week Beginning 04/16/2017
April 12, 2017
Here are the upcoming happenings at King Avenue UMC. Please scroll through the general annoucements, then scroll through the categories. You can click on the included links for more details.
Cuisine for a Cause
The ninth annual Cuisine For A Cause is in the books, and we're happy to report that we raised about $17,000 to support the children of Casa de Misericordia. It seems clear that our venue for this year – Strongwater Food & Spirits in Franklinton – is a terrific facility and those who attended had a great time. The money we raised is desperately needed by the orphanage as they struggle to provide food, housing, clothing, medical care, education, and emotional and spiritual care for two dozen neglected, abandoned and abused children.
READ MORE or MAKE A DONATION
* Worship Opportunities *
---
Lent and Easter
Friday, April 14
Good Friday Service, 7:00pm in the Sanctuary
KA Youth & Kingsgate Ministries will provide worship

Sunday, April 16
Easter Sunday - No Sunday School
Morning Blend at 9am and Traditional Worship at 11am

Sunday, April 23
King Avenue Kids will sing at 11am worship
King Avenue Youth Trial of Jesus - noon
Trial Jurors (audience) needed!

Amazing Love - Sunday, April 30 at the 11am Service
A Service of Lessons and Carols Celebrating the Life, Death, and Resurrection of Jesus.
Presented by the King Avenue United Methodist Church Chancel Choir, soloists, organ and brass

Native American Sunday - Sunday, April 30
The United Methodist Church is passionate about honoring the rich heritage of Native American communities. When we support Native American Ministries Sunday, we contribute to scholarships for Native American seminary students and Native American congregations that are finding ways to minister to their communities to live as followers of Jesus Christ.
READ MORE




* Faith Formation *
---
Coming Out of Shame - April 23 at 10:00am
Dr. Karen McClintock will give a presentation on Coming Out of Shame at our 10am Sunday School on April 23.
READ MORE

Spring New Member Classes - Beginning April 23 at 10:00am
New Member classes are an opportunity to meet others in the KAUMC community, take a fascinating church tour, learn where United Methodists fit in Christianity's family tree, get an overview of our missions to find out where you can join in, and learn about the many ways to grow in faith through the church.
READ MORE




* King Avenue Children, Youth, & Family Ministries *
---
Involvement Opportunity
Sunday morning programs for children and youth are growing. Are you interested in supporting the faith development of our children and youth?
READ MORE

Sunday, May 7 at 12pm
Youth Fundraiser Lunch for Youth Annual Conference and Youth Service Fund

Friday, May 19 from 6:00-8:30pm
ITP Parents' & Caregivers' Evening Out Social Event
Got a kiddo 3 years and under? You need a break! Watch the King Avenue UMC ITP Page for details on this event to spend time with other parents of little ones and refresh for a bit. Registration will be required by May 17th through KidCheck. Registration link available on Facebook page or by contacting Erin Kendall.

Friday, May 19 at 6:30pm
Youth Friday Fun Night - Save the Date
Watch the King Avenue UMC Youth Ministries Facebook Page for details!

Sunday, May 21
High School Graduation Recognition - If you have a student graduating high school this spring, please make sure that Erin Kendall knows the details so we may recognize their achievement on this day.

Sunday, May 28
Last Day of Worship Connections & Sunday School- Summer Break until August! (Multi-Age Sunday School will be offered June-August. Watch for more details.)

Mark your Calendars for June:
June 3: King Avenue Family Day Meet-up & Picnic at Slate Run Historic Farm

June 9-11: Youth Annual Conference at Lakeside, OH

June 17: Columbus Pride Parade & Festival

June 26-30: HERO CENTRAL - Vacation Bible School (Ages 4-Grade 3)
* SPECTRUM *
---
SPECTRUM Theater Outing - Corpus Christi
Evolution Theater Company presents Corpus Christi by Terrence McNally presented in association with CATCO at the Shedd Theater.
When - Friday, May 5 at 8:00 p.m.
Where - Shedd Theater, Columbus
Tickets are $15.00 (20% less if we qualify for group discount). Please reserve your ticket by April 26. To reserve tickets, email Steve at expect.sh@gmail.com.
READ MORE
Get on the King Ave Rally Bus to Washington DC!
Organizers of the Washington DC Pride Festival in conjunction with several other organizations are working to bring together the National Pride March. This will take place on Sunday, June 11 on the National Mall in Washington DC. As is our tradition and in the spirit of unity and one voice for many and specifically our LGBTQ Community, King Avenue UMC SPECTRUM is organizing a coach bus trip to Washington DC. We will join thousands from across the country for the Sunday, June 11, 2017 National Pride March On Washington.
READ MORE
* Young Adults *
---
Sunday, April 30 - King Avenue Young Adults Clippers Outing
Wednesday, May 17 - Theology on Tap
Thursday, May 18 - Open Shelter Lunch Packing
Sunday, May 21 - YA Brunch
READ MORE
* Mission and Outreach *
---
United Methodist Women
Mark your calendars for the Spring Rummage Sale! The sale is set for Friday, May 12 and Saturday, May 13. Stay tuned for volunteer opportunites.

Open Shelter Lunch Packing Dates for 2017
Tuesdays: 4/25/17, 5/30/17, 6/27/17, 7/25/16, 8/29/17, 9/26/17, 10/24/17, 11/28/17, 12/26/17
Thursdays: 4/20/17, 5/18/17, 6/15/17, 7/20/17, 8/17/17, 9/14/17, 10/19/17, 11/16/17, 12/14/16

Serve Breakfast at Gates Fourth UMC, 9:00-12:00 - 2017 Opportunities
April 22 & 29, May 27, June 24, July 22 & 29, August 26, September 23 & 30, October 28, November 25, December 23 & 30

Shoes for Shalom Zone
King Avenue Young Adults will be collection new and gently-used shoes at All-Church Luncheons, first Sundays of the month.



* Fellowship *
---
All-Church Luncheons, Last Sundays of the Month from 12:00-1:00 in Fellowship Hall
April 30, May 28, June 25, July 30, August 27, September 24, October 29, November 26, December 31

Lit Club - April 30, 7pm
Americanah by Chimamanda Ngozi Adichie




* The Arts *
---
King Avenue Players' MISCAST CABARET Auditions - April 23 & 24

Actors singing actresses' showstoppers, young women filling old men's roles and seniors playing ingénues. You don't want to miss your chance to be part of this evening of madcap musical magic. Join us for a hilarious mix-up of performers singing songs from roles in which they would NEVER be cast.
READ MORE
* Stay in the Loop *
---
For this and other King Avenue news, visit our website at kingave.org.
Like us on Facebook at King Avenue UMC
Follow us on Twitter at @kingaveumc
Join the Twitter chat at #KAChurchChat
View Preaching Text
Listen to Sermons


View

Archive Newsletters
Back