King Avenue – Our Home
October 27, 2018

We are Home at King Avenue Church –
Our Haven of Blessing and Peace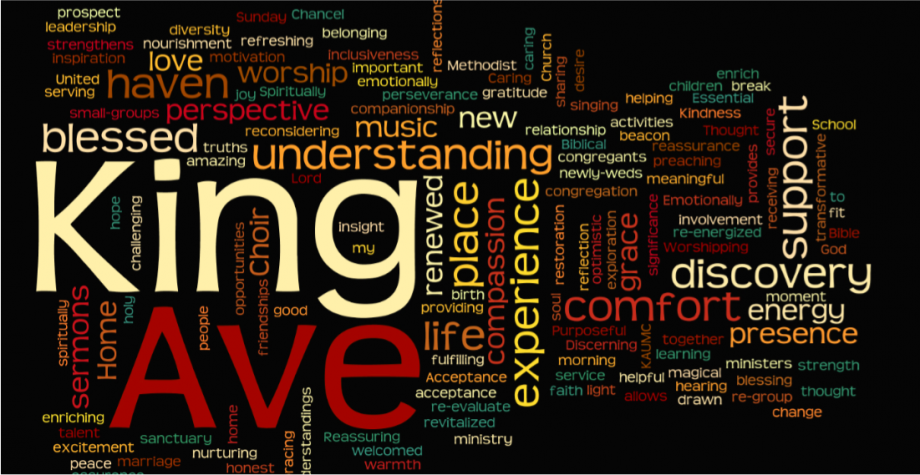 King Avenue is much more than a place. It's our home and our haven of blessing and peace. It's where we grow spiritually, celebrate diversity, gather in unity, impact our community, enjoy time with friends and family, and make a joyful noise.

Something magical and holy happens at King Avenue. It's where we are all accepted for who we are, no questions asked, and no matter what troubles or worries we carry, we find fellowship and encouragement. It's where we can regroup from the stresses of the world and remember that we are not alone.

"Surely the presence of the Lord is in this place!"

Like a family, we all join together to support one another. THANK YOU for your pledges and gifts in support of the King Avenue Operating Fund. Your generosity brings everything King Avenue does to life!
"Homes are special places; where all are welcome, supported, nurtured and cared for. They provide refuge from all of life's turbulence. We cannot control the challenges we face, but knowing that there is that one place - that is ours - makes life a little easier. For my family, King Avenue - is home."
"King Avenue is like home because I know lots of people there who are my friends, who love, support me, and feel like family."
"King Ave blesses my family by providing other Christian families to be in a relationship with. The church also provides diversity for my family to learn that, all are loved."
Your gifts to King Avenue Church make it possible to change lives in our community and the world.
YOU ARE A LIFE-CHANGER.
We can't thank you enough.
PLEDGE SUNDAY IS THIS SUNDAY, OCTOBER 28.


Back