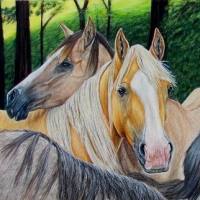 King Avenue Art Gallery Exhibit
July 14, 2017

August Art Gallery
The Blessing of Four-Footed Friends: Portraiture and Photographs of Beloved Animals
Featuring Two King Avenue Artists

Angela Finney, Artist
Angela Finney is exhibiting animal portraits to the gallery. Animals have always been an important part of Angela Finney's life from childhood until the present. Until recently moving to Columbus, she was fortunate to have lived on her own small farm near Granville, where she was able to live with horses, chickens, a turkey, a parrot and numerous dogs and cats.

Angela primarily uses colored pencils to create lively and colorful animal portraits. She has drawn and painted for over twenty years. Her fine art education includes The American Academy of Equine Art (AAEA) workshop with Sam Savitt and Fine Art classes at the Columbus College of Art and Design (CCAD), Toledo University Fine Art Department, Kent State University Fine Art Department and Denison University.

Angela writes, "My life is blessed when I create a treasured piece of art which captures an animal's unique beauty and character." For more information, go to angelasanimalart.com.

Tom Moore, Photographer
Tom Moore had a lengthy career in education, serving as Superintendent of Schools in many districts, primarily in the state of Illinois. But in retirement, Tom pursues photography as a hobby. Tom and his wife, Diane attended King Ave UMC's Blessing of the Animals last summer at Goodale Park, where Tom snapped some scenes from the day. Selected photos from The Blessing of the Animals 2017 are featured.
Back