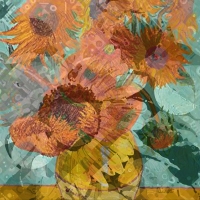 King Avenue Art Gallery
June 23, 2018
Fusion - Art Exhibit July and August
---
Art history fuses with the painting and photo styles of Kurt Reichert in the KAUMC Gallery exhibit, "Fusion."

As a student and teacher of art over the past 60 years, Kurt has a passion for art history and the artists who came before him. This exhibit will feature three paintings that fuse Reichert's style with that of Gustave Klimt, Roy Lichtenstein and Louise Nevelson. There is a Photoshop creation the merges sunflower painting by Kurt and Vincent Van Gogh. The exhibit is rounded out with still life photos that illustrate possible meals of Georgia O'Keeffe, Andy Warhol, Jackson Pollock, David Hockney, Claude Monet, and his father, Fred Reichert.

The exhibit will be on view from Sunday, July 8 until Sunday, August 26.
Back