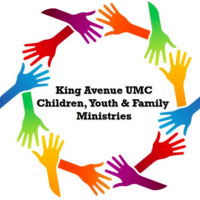 King Avenue Children, Youth, & Family Ministry April-May 2019
March 28, 2019
EGGSTRAVAGANZA 2019 – A Holy Week and Easter Celebration
Saturday, April 13 at 10am King Avenue Church - Fellowship Hall
Come join in a festive celebration with Holy Week and Easter Activities, Games and an Easter Egg Hunt with a King Avenue twist! Open to all King Avenue Families and Friends ages 4-Grade 5. This is a family event and participation with your children is required.

High School Graduate?
Do you have a High School Student graduating this year? If so, please be sure to let Erin or Pastor Colleen know so we can celebrate them during worship on Sunday, May 26th!

Summer Vaction
Sunday, May 26 - Last day of Sunday School and Worship Connections before summer break.

NEW this Spring/Summer
King Avenue Children, Youth and Family Ministries will have a flowerbed outside of the church to care for and make our own! It will be a family a air – we'll all pitch in and plant flowers, weed the beds, feed the bees, water the birds, paint rocks and keep it looking great! Watch for more information in the coming weeks if your family is interested in participating in this fun service project in our own "backyard!"

Mark Your Calendars!
Sunday, April 7 from 4:00-6:00: Youth Group
Friday, April 12 from 6:30-9:30: Youth Friday Fun Night
Saturday, April 13 from 10:00-12:00: Eggstravaganza Easter Party
Sunday, April 14: Kids pass out palm branches in worship
Sunday, April 21: No Sunday School
Friday, April 26 from 6:00-8:30: Parents' Evening Out
Sunday, April 28 from 12:00-1:00: West Ohio Camps Informational Lunch
Sunday, May 5 from 12:00-2:30: Youth Group - Lunch & setup Rummage Sale
Friday, May 10 from 6:00-8:30: Parents' Evening Out
Sunday, May 12: Confirmation/Youth Sunday
Friday, May 17 from 6:30-9:30: Youth Friday Fun Night
Sunday, May 26: High School Graduation Recognition Sunday
Back