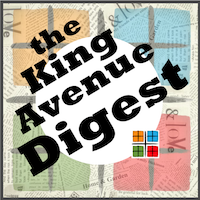 King Avenue Digest 1/14/22
January 14, 2022
UPCOMING EVENTS AND NEW ANNOUNCEMENTS
King Avenue's COVID Response to Omicron - In light of the contagious nature of the Omicron variant, we remind congregants that we provide online worship each Sunday. Online worship is a meaningful option if you've had exposure, are experiencing symptoms, or have received a positive COVID test result. Being mindful of our risk to others is part of our inclusive nature of loving and caring for one another by temporarily stepping away from in-person worship so we may avoid exposing others. Additionally, if you feel concerned or are at-risk for serious illness and want to explore a safer worship environment, we encourage you to do so. Our online worship site can be found directly at bit.ly/ka-church-online , or by clicking on the button on our main website kingave.org . Our online worship is live-streamed, and can be visited on-demand at the conclusion of the service. CLICK HERE to read the latest ODH Guidelines.

January 15: Documentary Screening with Q & A - "DeRosa: Life, Love & Art in Transition" chronicles the extraordinary life of artist Felicia DeRosa, who came out as transgender at the age of 41. With her life, career, and marriage potentially at risk, Felicia bravely embarks on a journey towards authenticity and self-acceptance. Join us at King Avenue United Methodist Church Saturday, January 15th 4:30 to 6 pm for a special screening of the film followed by a Q&A with the filmmaker, Angelo Thomas, and documentary subjects, Felicia DeRosa and Gwendolyn Glover DeRosa!

January 16: Special Offering - Human Relations Day is Sunday, January 16. Offerings collected help ministries improve race relations and recognize the right of all God's children to realize their potential as human beings in relationship with one another.

January 22: StrengthsFinder Workshop - Most people don't have trouble naming their weaknesses, but find it much harder to name their strengths. On Saturday, January 22nd, join us as we learn more about our strengths and how to make them our focus. We will follow this workshop with a weekly study to talk about our spiritual gifts and how they work together with our strengths to be all that God has intended us to be. To participate in the workshop, you will need to complete the CliftonStrengths Assessment. Your cost for the workshop is $10. You will be sent a link on January 17th. This link will take you to the Gallup website to complete the assessment. This MUST BE DONE BEFORE by January 20th to attend the workshop. We look forward to a meaningful time together! CLICK HERE TO REGISTER & PAY

January 23: Faith & Anti-Racism Panel Discussion - On Sunday, January 23rd (7 to 9 pm) in the Chapel, King Avenue UMC wants to intentionally address racism and promote spaces for storytelling and discussion so that we can dismantle the white supremacy that exists in our community. We're going to start with a panel discussion on the intersection of faith and anti-racism with several experts in the field.

January 29: New Member Class - Are you interested in joining King Avenue UMC? Our church is a wonderful and unique congregation and we invite you to make King Avenue your church home. We will be having a New Member Class on January 29th withNew Member Sunday the next day, January 30th. We would be thrilled to have you join us! Questions? Please ask Pastor Becky or Pastor Andy. CLICK HERE TO REGISTER

January 30: Lit Club - Lit Club meets at 7:00 the last Sundays of the month in the Parlor and Zoom. All are welcome! Simply read the book of the month, and get together for fellowship and conversation. Join us on January 30 at 7:00 in the Parlor to discuss Betty by Tiffany McDaniel. Looking ahead... February 27 - The Guest Book by Sarah Blake; March 27 - Migrations by Charlotte McConaghy. Zoom Meeting 84317079488 Passcode 534202

January NNEMAP/Hubbard Item of the Month - Each month, we are going to focus our donations on specific items for NNEMAP pantry and Hubbard Elementary School. For the month of January, NNEMAP needs cans of soup, and Hubbard Elementary needs glue sticks and composition notebooks. You can bring your donations with you on Sundays in January - there will be a place to leave them in the back of the worship space.

Chancel Flowers for Worship - If you are interested in signing up to donate Chancel Flowers for worship, please use this form. You can specify that your flowers be listed in the bulletin in memory or honor of a person or notable event. The arrangement is yours to take home at the end of that Sunday's service.
FAITH FORMATION, FELLOWSHIP, AND SUPPORT
Ongoing Children, Youth, Family Opportunities - Check our website for our ongoing opportunities for Children, Youth, and Families. This includes our ongoing children and youth Christian education, faith formation, community and fellowship, and ways you can stay connected. CLICK HERE for our Children, Youth, and Family Page on the King Avenue website.
OPPORTUNITIES TO HELP
Back