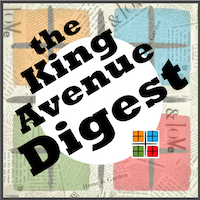 King Avenue Digest 1/26/19
January 26, 2019
The King Avenue Digest highlights the biggest "good of the order" events, and those that are most close at hand. Look through the articles on our Home Page (kingave.org) or within ministry and mission pages for more comprehensive happenings that pertain to you.

* This Week's Highlights *
---
Special Collection for the Homeless
During January we shall collect Warmth Kits for the Homeless containing socks, mittens, knit hats, and fast food gift cards. Bags and lists are available on the Welcome Tables in Fellowship Hall and milling area. Please return your kits by January 27.

Special Offering
January 27, Human Relations Day.

SPECTRUM Hosts the All-Church Lunch
Stay for lunch and fellowship on January 27. A delicious lunch will be served by the SPECTRUM ministry. All are welcome. A freewill offering is appreciated. Vegetarian options will be available.

Lit Club, Sunday, January 27, 7pm, Logos Lounge
This Is How It Always Is by Laurie Frankel

King Avenue Players: Auditions for Doubt
Auditions for DOUBT by John Patrick Shanley will take place January 27 at 6:30pm and January 28 at 6:30pm. For more information, visit KingAvePlayers.org

New Parking Regulations
The city's new parking regulations for the area have gone into operation. They will have some effect on parking for King Avenue Church.
READ MORE

Abundant Living...with the End in Mind
Sunday Morning Classes for Adults 10:00-10:45 am
5 sessions, February 3 – March 3 in the Chapel
READ MORE
Art, Start & Depart Art Classes
Kurt Reichert is beginning a series of bi-monthly art classes geared for the person who is intimidated by art. DON'T BE! These classes are designed for anyone. With each class you will learn a basic technique and create a project. The goal is to depart and put your own spin on it. The first session is Put some Art in your HeART at 7:00pm Monday, February 4 in the Art Gallery at King Avenue UMC. Students will create tissue paper collages using heart shapes. The cost is $5.00 and can be paid the night of the class. You do need to reserve a spot. Please RSVP via email to kurtfreichert@yahoo.com by Sunday, February 3.

Plugging in to God: A Retreat for Men
Saturday, February 16, 8:30am-1:00pm
Registration Closes February 9
READ MORE

The Grief Recovery Method® Grief Support Group & Workshop Informational Meeting
Learn more about Grief Recovery Method and the Support workshop by attending an informational meeting, Monday, February 18 at 7:00 pm.
READ MORE

The One Church Plan - An Article from the Reconciling Ministries Network (RMN)
Thank you very much for the prayerful time and thought that you are devoting to your preparation for the special general conference. It is a critical responsibility you hold for the future of the United Methodist Church. We of the Central Ohio Conference Reconciling Ministries Network urge you to support the One Church Plan. Save the Date: Impressions and Reports from the United Methodist Church General Conference, Sunday, March 10 in the Chapel, 10-10:45 am
READ MORE

Group Art Show in Gallery for February
"Assemblage" is the name of the annual group show in the King Avenue UMC Gallery for January and February. Assemblage means a group of people or things. This is a fitting title because this show is a group of artists and their art. The variety is amazing and it's wonderful to see the talents of so many artists in one exhibit. This year we are pleased to show the work of Robert Bazzle, Felicia DeRosa, James Edinger, Angela Finney, Nancy Heber, Evy Hummon, Martin Kehlmeier, Sheryl Lazenby, Andrew Mitchell, Eric Mize, Janet Reichert and Kurt Reichert. Please stop in the gallery and reflect on the displayed art.

KACYFM Happenings:
Mark your calendars for the upcoming February and March events for King Avenue Children, Youth, and Family Ministries. Click here to download the FEB/MARCH Flyer.
Sun, Feb 3, 4-6pm: Youth Group
Fri-Sat, Feb 15-16, 10pm-7am: Youth District Lock-In
Fri, Feb 22, 6:30-9:30pm: Parents' Evening Out
Sat, Feb 23, 10am-12pm: Infant/Toddler Family Brunch
Sun, Feb 24, 1-2pm: Warm Hearts Family Service Project
Sat, Mar 2, 10-11am: Little Ladies & Gents Tea
Sun, Mar 3, 4-6pm: Youth Group
Fri, Mar 15, 6:30-9:30pm: Youth Friday Fun Night
Fri, Mar 22, 6-8:30pm: Parents' Evening Out
Fri-Sat, Mar 22-23, 5:45pm– 2pm: Human Sexuality Retreat at Maple Grove UMC
Sat, Mar 30, Time TBA: Roots & Wings Parents Workshop & Family Concert with Chip Richter
Our Mission Statement
"We invite, welcome and honor all people and nurture them to grow in service with Christ."
Our Vision Statement
"We are a community of servants called by God's reconciling grace to open doors of sanctuary, to create new avenues of ministry, to equip Christians for discipleship, to lead reconciling ministries."



* Worship *
---
Worship at King Avenue Church
King Avenue has two different worship services each Sunday. Worship each Sunday is at 9:00am, and 11:00am.
9:00 Morning Blend: This is a smaller, more informal service is in Fellowship Hall. Coffee and donuts are available before and throughout the service. The music is eclectic and the atmosphere is friendly and relaxed.
11:00 am Traditional Worship: This traditional service in the sanctuary featuring the music of our wonderful Chancel Choir and our very talented organist. Sign Language Interpretation is available the 2nd and 3rd Sundays of each month. Dress is casual.
Additional Opportunities for Adults, Children, and Families
8:45–12:15 Nursery Care: Birth – Age 3 Nursery (Upper Level)
9:00 Morning Blend Worship Connections; Age 4 - Grade 1 (Classroom L4)
10am Sunday School Hour
Sr. High (Grades 9-12) Donnenwirth Lounge (Upper Level)
Middle School/Jr. High (Grades 6-8) Fellowship Hall Classroom (Lower Level)
Godly Play (Grades 2-5) Big Classroom (Lower Level)
Godly Play (Ages 4- Grade 1) Small Classroom (Lower Level)
Adult Sunday School Watch the website for specific offerings as these vary
11:00am Worship Connections : Age 4 – 5 (classroom L5), Grades 1 - 3 (classroom L4)
Prepare for Sunday by Reading the Preaching Texts
Check out the Preaching Text page on our website for listing of the scriptures to be used in sermons.
Listen to Sermons
Listen from our website

* Faith Formation *
---
Faith Dive Sunday School – Ongoing Adult Class
Faith Dive Sunday School class meets at 10:00 am in the Logos Lounge (L1).
READ MORE

Additional Faith Formation Classes
Visit our Adult Faith Formation Page for more information about additional faith formation opportunities.
* King Avenue Children, Youth, & Family Ministries *
---
King Avenue Children, Youth, and Family Ministries
Worship Connections
Kids Ages 4 – Grade 3
9am - Big Classroom (Lower Level)

11am - Big and Small Classrooms (Lower Level)
Sunday School Hour at 10am – There's Something for Everyone!
Sr. High (Grades 9-12) Donnenwirth Lounge (Upper Level)

Middle School/Jr. High (Grades 6-8) Fellowship Hall Classroom (Lower Level)

Godly Play (Grades 2-5) Big Classroom (Lower Level)

Godly Play (Ages 4- Grade 1) Small Classroom (Lower Level)

Real People Real Parenting Small Group Fireside Room (Upper Level)
Family Service Opportunities
Looking for ways for your family to serve at King Avenue? Ask Erin for more information and to get started!
Volunteer with Worship Connections or Sunday School (See Gwen DeRosa for more details)

Acolyte once a month at Morning Blend or 11am Worship (Kids Grade 4-12)

Become a Greeter once a month for Morning Blend or 11am Worship (All Families, All Ages)

Help with Morning Blend Family Tables (All Families, All Ages)

Participate in a Youth Service Project (Kids Grades 6-12)

Join the King Avenue Lunch Packing Group (All Families)

Volunteer at NNEMAP (All Families)
Real People. Real Parenting.
All parents are welcome Sundays from 10:00-10:45am in the Fireside Room.
READ MORE

Additional Children, Youth, and Family Ministry Happenings.
Visit our KACYFM Page for more information about upcoming events.
* SPECTRUM *
---
Coming Out with God Support Group
Coming Out with God is an adult, faith-based discussion group offering support and encouragement for anyone in the "coming out" process. We use various resources that emphasize God's grace and unconditional love. The group focuses on and strives to deepen our identity in Christ as we come out to family, friends, coworkers, etc. We welcome all, whether you are in need of support or you wish to encourage others by sharing your own "coming out" experiences. We meet in six-week sessions Wednesdays, 7pm at King Ave United Methodist Church. Acknowledging that "coming out" is more a process than an event, you are welcome to attend the group in the way that fits your needs: attending a six-week session, dropping in as desired, or becoming an ongoing member. For questions and meeting schedule, contact Mary Bostian, kingcowg@gmail.com.

Additional SPECTRUM Happenings.
Visit our SPECTRUM Page for more information about upcoming events.
* Campus Ministry *
---
GRAD CHAT - Graduate and Professional Student Lunch
Second Sundays of the month at noon in Fellowship Hall. Contact Colleen Ogle for more information. Visit buckeyemethodists.com to keep up on all the latest events.
* Mission and Outreach *
---
Free Trade Coffee, Tea, and Chocolates on Sale
Second Sundays of the Month
K Cups - Single Serve Cups 12 cups/box are environmentally-friendly single serve cups are made from recyclable plastic and aluminum. Enjoy all the convenience with less waste!

Tea - We are proud to partner with small scale growers in India and South Africa and Sri Lanka to build the alternative supply chain of small farmer grown tea.
Open Shelter Lunch Packing Dates
Tuesdays: Last Tuesday of the month beginning at 6:00pm
Thursdays: 3rd Thursday of the month beginning at 6:00pm
Serve Breakfast at Gates Fourth UMC, 8:30-10:00
4-5 volunteers serve food and wash dishes on the 4th and 5th Saturdays of every month from 8:30-10:00 at Gates Fourth UMC. Gates Fourth is located at 119 E Gates St, Columbus OH, 43206.
Donate New & Gently-Used Clothes
King Ave ClothesShare - Infant and Toddle Sizes passed down to other King Avenue families.

Clothes for Kids - Children's sizes (new and gently-used) given to children at Hubbard Mastery School
Additional Opportunities to Help.
Visit our Community Service Page for more information about upcoming opportunities to help.
* Fellowship *
---
All-Church Luncheons
All-church lunches are generally the last Sunday of the month in Fellowship Hall at noon. It is free to eat, but a free will offering is welcome. All are welcome to the table!

Addtional Fellowship Opportunities:
Click on links below for other fellowship opportunities.
* Stay in the Loop *
---
For this and other King Avenue news, visit our website at kingave.org.
Like us on Facebook at King Avenue UMC
Follow us on Twitter at @kingaveumc
Join the Twitter chat at #KAChurchChat
Back