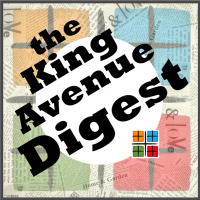 King Avenue Digest 1/6/18
January 6, 2018
Check out the featured announcements on the King Avenue Digest, and click on the links to read more. The rest of the Digest has more comprehensive happenings organized by ministry/category announcements that pertain to you. You can also download the Carillon and Calendar to get the full picture!
January Carillon Newsletter
January Calendar

* Featured Announcements *
---
Setting up Recurring Pledge Payments
Thank you for generously making a 2018 pledge to support the operations and ministries of King Avenue United Methodist Church. In the past you were enrolled in the church's Auto-Debit Contribution option, where your donations were automatically deducted from your checking account. We now offer a similar program, but with the added option of using a debit or credit card, through Vanco! It's SAFE and EASY. Please note that the ACH system of withdrawals in which you are currently enrolled will automatically terminate on 12/31/2017. It will be replaced by the Vanco system of giving.
READ MORE

Art Gallery
Make a 2018 Resolution to enter the KAUMC Gallery Show, RESOLUTIONS. The Worship and Arts Committee is sponsoring an exhibit in the gallery for January and February, 2018.
READ MORE

Collection for the Homeless
In January and February, King Avenue will be collecting items for Blessing Bags to support the Open Shelter and Faith Mission shelters. Gallon sized bags with lists of items will be available at a table between services starting January 7, 2018. Bags are due back filled by Sunday February 25.
READ MORE

Coming Out with God
Wednesdays beginning January 10
7:00 - 8:00 in Donnenwirth Lounge
READ MORE

Parents Real Pediatrics Discussion Group
Sundays beginning January 7
10-10:45am in the Infant/Parent Room (Upper Level)
This drop-in discussion group will be held each week and focus on a specific topic from Dr. Greg Barrett's popular blog, RealPediatrics.com. Each week's topic will be posted in Realm.

King Avenue Players
Auditions for Thornton Wilder's Our Town on 
Sunday, January 7th & Monday, January 8th at 6:30 on the third floor. The performances are March 8, 9, and 10 at 7:30pm
, and March 11 at 3:00pm.
READ MORE
Disciple Bible Studies—a new start for the new year
*Disciple I Fast Track: Becoming Disciples Through Bible Study
Wednesday mornings, 10-11:30am in the Centennial Room
Wednesday evenings, 7-8:30pm in the Centennial Room
January 10 - April 4 (excluding Ash Wednesday, February 14)

*Disciple II Fast Track: Into the Word, Into the World
Wednesday evenings, 7-8:30pm in the Chapel
January 10 - April 4 (excluding Ash Wednesday, February 14)
READ MORE
New Member Classes
The next session of classes for persons interested in becoming a member of King Avenue UMC will be held Sunday mornings, 10 – 10:45am, January 7 through February 4 with the ritual of membership on February 11, 2018.
READ MORE

Human Relations Day
Special Offering, January 14
READ MORE

Save the Date! Tenth Annual Cuisine for a Cause
Cuisine for a Cause, a Benefit for Casa de Misericordia Orphanage in Piedras Negras Mexico
March 23, 2018 beginning at 6:00pm
Strongwater Food & Spirits
READ MORE

Our Vision Statement
"We are a community of servants called by God's reconciling grace to open doors of sanctuary, to create new avenues of ministry, to equip Christians for discipleship, to lead reconciling ministries."
* Worship *
---
Our Vision Statement
"We are a community of servants called by God's reconciling grace to open doors of sanctuary, to create new avenues of ministry, to equip Christians for discipleship, to lead reconciling ministries."

Seeking to be Baptized?
Worship on Sunday, January 7, 2018 will include the very special celebration of the Baptism of the Lord, including a ritual to remember our baptism as a congregation. It is also a wonderful time to baptize new people into the Christian faith.
READ MORE

Human Relations Day
Special Offering, January 14
READ MORE

Don't You Let Nobody Turn You Around!
An Artistic Celebration of the Life and Legacy of Rev. Dr. Martin Luther King, Jr.
January 21, 2018, 3:00pm
St. Luke's United Methodist Church
READ MORE
The Relationship Between King Avenue UMC and St. Luke's UMC
It is time to discuss the possibilities, potential, logistics, timeline, and ministries for King Avenue's possibly living into its vision at St. Luke's UMC on W. 5th Avenue in Grandview. Pastor Keeny will hold a series of Q&A sessions on January 21, 28, 30, and February 12.
READ MORE

Prepare for Sunday by Reading the Preaching Texts
Check out the Preaching Text page on our website for listing of the scriptures to be used in sermons.

Listen to Sermons

* Faith Formation *
---
Blessed Believers – Adult Sunday School Class
Sundays at 10am in the Fireside Room
READ MORE

Disciple Bible Studies—a new start for the new year
*Disciple I Fast Track: Becoming Disciples Through Bible Study
Wednesday mornings, 10-11:30am in the Centennial Room
Wednesday evenings, 7-8:30pm in the Centennial Room
January 10 - April 4 (excluding Ash Wednesday, February 14)

*Disciple II Fast Track: Into the Word, Into the World
Wednesday evenings, 7-8:30pm in the Chapel
January 10 - April 4 (excluding Ash Wednesday, February 14)
READ MORE
New Member Classes
The next session of classes for persons interested in becoming a member of King Avenue UMC will be held Sunday mornings, 10 – 10:45am, January 7 through February 4 with the ritual of membership on February 11, 2018.
READ MORE

* King Avenue Children, Youth, & Family Ministries *
---
Sunday Worship Connections
9:00am Ages 4 – Grade 1
11:00am Ages 4 –Grade 3

Sunday School from 10:00 –10:45am
Age 4 – Grade 5, Godly Play, Big & Small Classrooms (Lower Level)
Grade 6 – 8, Youth Sunday School, Fellowship Hall Classroom (Lower Level)
Grade 9 – 12, Youth Sunday School, Donnenwirth Lounge (Upper Level)
Parents Real Pediatrics Discussion Group
Sundays beginning January 7
10-10:45am in the Infant/Parent Room (Upper Level)
This drop-in discussion group will be held each week and focus on a specific topic from Dr. Greg Barrett's popular blog, RealPediatrics.com. Each week's topic will be posted in Realm.

Parent's Evening Out
Friday, January 12
6-8:30pm in the Nursery (Upper Level)
Register through Realm Connect by Wed, Jan 10th. Children birth - age 4 and siblings up to age 9 welcome.

Youth Friday Fun Night
Friday, January 12
6:30-9pm in Fellowship Hall
Check Realm event for details and to RSVP!


* SPECTRUM *
---
Coming Out with God
Wednesdays beginning January 10
7:00 - 8:00 in Donnenwirth Lounge
READ MORE

SPECTRUM Euchre Night - January 26th
Join other King Avenue family and friends in the Churchs' Fellowship Hall at 6:30 p.m. for pizza and soft drinks, provided by SPECTRUM. Card playing begins at 7:00 p.m. with prizes for the best card sharks in the room! Please bring a favorite sweet or salty snack to share. Bring the whole family and your friends. Childcare will be provided.

SPECTRUM Hosted All Church Luncheon - January 28th
SPECTRUM is seeking Volunteers to help host the ALL Church Luncheon to be held immediately following the 11:00 a.m. Worship Service on January 28th.
Please email Steve at expect.sh@gmail.com to volunteer for one or more of the following times: 8-10 prep & cooking, 10- 12 cooking & setup and 12- 1:30 serve and cleanup and room reset.

SPECTRUM Cooking Class - February 2, 6:30-9:00
This is a new event added to our 2018 SPECTRUM Calendar of Events based upon input from you. The cooking class will be led by professional chefs and open to the first 25 folks who respond. There is a participation fee of $20 for this event. The group will divide into smaller groups, preparing a part of the meal menu before enjoying the feast.
CLICK HERE TO REGISTER!

* Young Adults *
---
YA Winter Mixer
Tuesday, January 23rd 7-9pm
Roy G Biv Gallery in the Short North (997 N. High Street)
Please RSVP to this fun event on the King Avenue UMC Young Adult Facebook page or via Realm.
* Campus Ministry *
---
Sundays at 10:00am
Sunday mornings in the Logos Lounge (L-1) college students come together to share in faith and process life opportunities, challenges, and questions together. Each week begins with a Bible study, devotions, and prayer. Then the floor will be open to discuss life, current events, and issues facing the church. In the midst of our discussions, we'll seek to listen to and learn from what God's Word reveals and to be respectful and supportive of one another. Come and be among "open hearts, open minds, and open doors." Here at King Ave Campus Ministry ALL are Welcome!


* Mission and Outreach *
---
Collection for the Homeless
In January and February, King Avenue will be collecting items for Blessing Bags to support the Open Shelter and Faith Mission shelters. Gallon sized bags with lists of items will be available at a table between services starting January 7, 2018. Bags are due back filled by Sunday February 25.
READ MORE

Save the Date! 10th Annual Cuisine for a Cause
Cuisine for a Cause, a Benefit for Casa de Misericordia Orphanage in Piedras Negras Mexico
March 23, 2018 beginning at 6:00pm
Strongwater Food & Spirits
READ MORE
Open Shelter Lunch Packing Dates
Tuesdays: January 30, February 27, March 27, April 24, May 29, June 26, July 24, August 28, September 25, October 30, November 27, December 25 (2018)
Thursdays: January 18, February 15, March 15, April 19, May 17, June 14, July 19, August 16, September 20, October 18, November 15, December 20 (2018)

Serve Breakfast at Gates Fourth UMC, 8:30-10:00 - 2017 Opportunities
4-5 volunteers serve food and wash dishes on the fourth and fifth Saturdays of every month from 8:30-10:00 at Gates Fourth UMC. Gates Fourth is located at 119 E Gates St, Columbus OH, 43206.

Donate New & Gently-Used Clothes
King Ave ClothesShare (boxes on the first floor) - Infant and Toddle Sizes passed down to other King Avenue families.

Clothes for Kids (boxes on the first floor) - Children's sizes (new and gently-used) given to children at Hubbard Mastery School
* Fellowship *
---
All-Church Luncheons, Last Sundays of the Month from 12:00-1:00 in Fellowship Hall

Lit Club – The last Sunday of the month, 7pm, Logos Lounge
January 28 - The Nix by Nathan Hill
February 25 - Just Mercy by Bryan Stevenson


* The Arts *
---
Art Gallery
Make a 2018 Resolution to enter the KAUMC Gallery Show, RESOLUTIONS. The Worship and Arts Committee is sponsoring an exhibit in the gallery for January and February, 2018.
READ MORE

King Avenue Players
Auditions for Thornton Wilder's Our Town on 
Sunday, January 7th & Monday, January 8th at 6:30 on the third floor. The performances are March 8, 9, and 10 at 7:30pm
, and March 11 at 3:00pm.
READ MORE

* Stay in the Loop *
---
For this and other King Avenue news, visit our website at kingave.org.
Like us on Facebook at King Avenue UMC
Follow us on Twitter at @kingaveumc
Join the Twitter chat at #KAChurchChat
Back