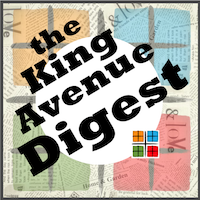 King Avenue Digest 11/16/18
November 16, 2018
The King Avenue Digest highlights the biggest "good of the order" events, and those that are most close at hand. Use the link below to view the full Digest for more comprehensive happenings organized by ministry/category that pertain to you. There are LOTS of events this month, so check out the website to look ahead!

Click here for the FULL King Avenue Digest
Click here for the December Carillon Newsletter
Prepare for Advent - View the Advent Page on the King Avenue Website

* Featured Announcements *
---
Bethlehem on Broad Street
There are many different ways to mark the holiday season. But for many of those who have participated on this yearly ecumenical fellowship, there is no better way to celebrate the birth of Christ than through Bethlehem on Broad Street. As we move into the coldest part of the year, there are many families and individuals with deep and immediate needs for food and clothing. This is particularly true in today's troubled economy. Our collection of food for Bethlehem on Broad Street will run from November 18 to December 7. Boxes and packing lists will be available in the milling area and Fellowship Hall. Our goal is 100 boxes. We would appreciate volunteers on December 8 and 15. Please contact Allen Price at allen@kingave.org if you are able to help.

Special Offering on November 25
Across the country, the people of The United Methodist Church are serving the people God loves in Jesus' name. We're doing it at home, but so often we'd like to do more. We want to serve those in other places who are suffering, and offer spiritual words of hope and life.
READ MORE

World AIDS Day, December 1 at 5pm
All are welcome to World AIDS Day Health Fair and Worship Service sponsored by the West Ohio Annual Conference. It will be held Saturday, December 1st, at Stonybrook UMC in Gahanna, OH from 5 - 7:15 p.m. The Health Fair begins at 5:00pm followed at 6:00pm by a worship service. Bishop Gregory Palmer will be preaching along with inspiring liturgy, remembrance and music. Please join us! You need to RSVP, but there is no charge. Heavy appetizers will be served. Click here to RSVP.
Download Flyer
Poinsettia Orders for Christmas Eve
Poinsettias are displayed throughout our Sanctuary during the Advent season. The cost of one poinsettia is $13. Your dedications will be included in the 7:30pm & 11pm Christmas Eve bulletins on Monday, December 24. Poinsettias are available to take home after the services. Please submit your payment and necessary information by Sunday, November 25. Please attach your payment to this form and place in offering plate or turn into the church office. Make checks payable to KING AVENUE UMC and indicate POINSETTIA on memo line.
Download the Order Form

Our Vision Statement
"We are a community of servants called by God's reconciling grace to open doors of sanctuary, to create new avenues of ministry, to equip Christians for discipleship, to lead reconciling ministries."

* Worship *
---
Home at King Avenue Church – Our Haven of Blessing and Peace
King Avenue is much more than a place. It's our home and our haven of blessing and peace. It's where we grow spiritually, celebrate diversity, gather in unity, impact our community, enjoy time with friends and family, and make a joyful noise. Something magical and holy happens at King Avenue. It's where we are all accepted for who we are, no questions asked, and no matter what troubles or worries we carry, we find fellowship and encouragement. It's where we can regroup from the stresses of the world and remember that we are not alone. Like a family, we all join together to support one another. THANK YOU for your pledges and gifts in support of the King Avenue Operating Fund. Your gifts to King Avenue Church make it possible to change lives in our community and the world. You are a life-changer. We can't thank you enough.
READ MORE
Special Offering on November 25
Across the country, the people of The United Methodist Church are serving the people God loves in Jesus' name. We're doing it at home, but so often we'd like to do more. We want to serve those in other places who are suffering, and offer spiritual words of hope and life.
READ MORE
It's Time to Order Poinsettias for Christmas
Poinsettias are displayed throughout our Sanctuary during the Advent season. The cost of one poinsettia is $13. Your dedication will be included in the 7:30pm & 11pm Christmas Eve bulletins on Monday, December 24. Poinsettias are available to take home after the services. Please submit your payment and necessary information by Sunday, November 25. Please attach your payment to this form and place in offering plate or turn into the church office. Make checks payable to KING AVENUE UMC and indicate POINSETTIA on memo line.
Download Order Form
Prepare for Sunday by Reading the Preaching Texts
Check out the Preaching Text page on our website for listing of the scriptures to be used in sermons.

Listen to Sermons
Listen from our website

* Faith Formation *
---
New Member Class
The next session of new member classes will take place during the 10am hour and will run from November 25 through December 16. If you are interested in joining King Ave UMC, or in just learning how to become more involved, email colleen@kingave.org.

Faith Drive Sunday School – Adult Class
Faith Dive Sunday School class meets at 10:00 am in the Logos Lounge (L1). Join us in a class with a focus on "Who is My Neighbor?"
READ MORE

Book Study, If the Church Were Christian
Pastor Colleen Ogle will lead a 10-week study Wednesdays October 10 - Decemember 19 from 7 to 8:30 PM. It is based on the book If The Church Were Christian: Rediscovering the Values of Jesus by Philip Gulley.
READ MORE
Christmas Carol Hymn Sing
Sundays December 9 & 23 at 10am in the Chapel
Make a joyful noise unto the Lord by singing some of your favorite Advent and Christmas hymns. Learn fun carol facts and histories too. Robin Shockney and Beth Aiello will be your choirmistresses. Ages 11 and up.
Discovering the Nativity
Sunday December 16 at 10am in the Chapel
Every year the story of Jesus' birth becomes tangible by way of the Nativity sets we place throughout our churches and homes. Join Reverend Peggy Garrison as she uses the magic of nativity sets from around the world to help us experience the birth of Christ.

* King Avenue Children, Youth, & Family Ministries *
---
King Avenue Children, Youth, and Family Ministries
Worship Connections
Kids Ages 4 – Grade 3
9am - Big Classroom (Lower Level)

11am - Big and Small Classrooms (Lower Level)
Sunday School Hour at 10am – There's Something for Everyone!
Sr. High (Grades 9-12) Donnenwirth Lounge (Upper Level)

Middle School/Jr. High (Grades 6-8) Fellowship Hall Classroom (Lower Level)

Godly Play (Grades 2-5) Big Classroom (Lower Level)

Godly Play (Ages 4- Grade 1) Small Classroom (Lower Level)

Real People Real Parenting Small Group Fireside Room (Upper Level)
Family Service Opportunities
Looking for ways for your family to serve at King Avenue? Ask Erin for more information and to get started!
Volunteer with Worship Connections or Sunday School (See Gwen DeRosa for more details)

Acolyte once a month at Morning Blend or 11am Worship (Kids Grade 4-12)

Become a Greeter once a month for Morning Blend or 11am Worship (All Families, All Ages)

Help with Morning Blend Family Tables (All Families, All Ages)

Participate in a Youth Service Project (Kids Grades 6-12)

Join the King Avenue Lunch Packing Group (All Families)

Volunteer at NNEMAP (All Families)
Lighting the Advent Wreath
Would your family be interested in lighting a candle and reading an Advent scripture during this year's Advent season? I will provide everything you need, so no preparation is necessary on your part. Click on the link below to sign up.
CLICK TO SIGN UP
Real People. Real Parenting.
All parents are welcome Sundays from 10:00-10:45am in the Fireside Room.
READ MORE

Confirmation Class & Youth Group
Sunday, December 2 from 4-6pm (Youth Group)

Parent's Evening Out 

Friday, December 14 from 6-8:30pm

Family Advent Bag & ChirstMission

Stop by the Children & Youth Faith Formation Table on 
Sunday, November 25 to pick up your Family Advent Bag filled with devotions and activities for your family to celebrate Advent together in your home. Also, visit the ChristMission Tree in the Children's Hallway (Lower Level) to pick up your tag for this year's Advent Family Mission Project. Our mission project will benefit the YWCA Family Center.


Christmas Eve Service Rehearsals
Saturdays, December 8, 15, 22 from 10-11:30am
Sunday, December 23 at 4pm (Dress Rehearsal)

Youth Service Project
NNEMAP Christmas Shoppe Set-Up
Sunday, December 9 from 2pm-4pm

All-Church Christmas Caroling Christmas Eve Service
Sunday, December 16 at 12:30pm

Family Christmas Eve Service
Monday, December 24 at 4pm

Kids sing in worship
Sunday, December 30 at 9 & 11am
* SPECTRUM *
---
World AIDS Day, December 1 at 5pm
All are welcome to World AIDS Day Health Fair and Worship Service sponsored by the West Ohio Annual Conference. It will be held Saturday, December 1st, at Stonybrook UMC in Gahanna, OH from 5 - 7:15 p.m. The Health Fair begins at 5:00pm followed at 6:00pm by a worship service. Bishop Gregory Palmer will be preaching along with inspiring liturgy, remembrance and music. Please join us! You need to RSVP, but there is no charge. Heavy appetizers will be served. Click here to RSVP.
Download Flyer
* Young Adults *
---
Village Lights
Sunday, December 2 from 5-7pm
German Village
Come enjoy this hidden treasure of the holiday season.The streets of German Village are lined with hundreds of luminaries. Take a walk with us and enjoy carolers, Christmas lights, and hot cocoa. We will meet at 5pm at the statue of Schiller in Schiller Park. Festive hats, scarves, and attire is encouraged!

* Campus Ministry *
---
GRAD CHAT - Graduate and Professional Student Lunch
Second Sundays of the month at noon in Fellowship Hall. Contact Colleen Ogle for more information. Visit buckeyemethodists.com to keep up on all the latest events.
* Mission and Outreach *
---
Bethlehem on Broad Street
There are many different ways to mark the holiday season. But for many of those who have participated on this yearly ecumenical fellowship, there is no better way to celebrate the birth of Christ than through Bethlehem on Broad Street. As we move into the coldest part of the year, there are many families and individuals with deep and immediate needs for food and clothing. This is particularly true in today's troubled economy. Our collection of food for Bethlehem on Broad Street will run from November 18 to December 7. Boxes and packing lists will be available in the milling area and Fellowship Hall. Our goal is 100 boxes. We would appreciate volunteers on December 8 and 15. Please contact Allen Price at allen@kingave.org if you are able to help.
Open Shelter Lunch Packing Dates
Tuesdays: November 27, December 25 2018
Thursdays: December 20

Serve Breakfast at Gates Fourth UMC, 8:30-10:00
4-5 volunteers serve food and wash dishes on the fourth and fifth Saturdays of every month from 8:30-10:00 at Gates Fourth UMC. Gates Fourth is located at 119 E Gates St, Columbus OH, 43206.
TECHIE HELP WANTED
The Cuisine For A Cause committee needs an additional member with some mild technical expertise.
READ MORE
Donate New & Gently-Used Clothes
King Ave ClothesShare (boxes on the first floor) - Infant and Toddle Sizes passed down to other King Avenue families.

Clothes for Kids (boxes on the first floor) - Children's sizes (new and gently-used) given to children at Hubbard Mastery School
* Fellowship *
---
All-Church Luncheons
All-church lunches are generally the last Sunday of the month in Fellowship Hall at noon. It is free to eat, but a free will offering is welcome. All are welcome to the table!

Lit Club is held on the last Sundays of the month, 7pm, in the Logos Lounge
October 28 – The Mars Room by Rachel Kushner
November 25 – Waking Lions by Ayelet Gundar-Goshen
December 30 – A History of Loneliness by John Boyne

* The Arts *
---
Art Exhibit for Christmas
The theme of the sanctuary decorations this December is "The Colors of Christmas." We would like to carry that into the gallery. Bring a colorful ornament! Also if you have a favorite holiday photo, make a copy and clip it to the roping. At the end of December we would like to keep all the ornaments and photos and make a huge wreath that we can display for years to come.
READ MORE
Creating Chrismons with Kurt
Sundays November 25 and December 2
10am in the Chapel
We're kicking off Advent by making Chrismons, ornaments made from Christian symbols. The class will be led by educator and artist extraordinaire, Kurt Reichert. The class is free and you get to take home your very own ornament. Ages 11 and up.
READ MORE

* Stay in the Loop *
---
For this and other King Avenue news, visit our website at kingave.org.
Like us on Facebook at King Avenue UMC
Follow us on Twitter at @kingaveumc
Join the Twitter chat at #KAChurchChat
Back