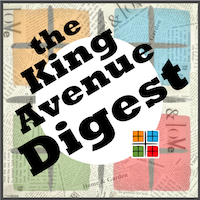 King Avenue Digest 11/19/21
November 19, 2021
UPCOMING EVENTS AND NEW ANNOUNCEMENTS
Families to Light the Advent Wreath? Advent starts soon, and we are seeking individuals and families to light the Advent wreath each Sunday during the holiday season, beginning next Sunday (November 28). You can use the SIGNUP GENIUS, or you can contact Erin directly to sign up, you can do that, too! Email Erin@kingave.org with interest. Anyone is welcome to volunteer.

Pledge Cards - It isn't too late! Thank you to those who have turned in pledge cards or pledged in Realm. It is a great help to the church when planning next year's budget. If you still plan to pledge, it isn't too late! Please turn in your card or enter your pledge on Realm. If you have questions, please email Charlene Dubin at charlene@kingave.org

November 20: Transgender Day of Remembrance - King Avenue United Methodist Church is once again the venue for the Columbus Trans Day of Remembrance on Saturday, November 20th, hosted by T Talks and Columbus Trans Pride March. We are also livestreaming the event on YouTube and we'll post the link on our Facebook pages. READ MORE AND RSVP

Beginning November 28: Advent Adult Sunday School - Starting on November 28, join Pastor Andy for a 4-week Adult Sunday School class at 10am each Sunday in Advent. It will be a simple space to unpack and explore together the Scriptures and themes introduced in worship each week.

November 28: Lit Club - Join us on Sunday, November 28 at 7:00pm in the Parlor to discuss Midnight Library by Matt Haig. Looking ahead, the book for December 26 is The Giver of Stars by Jojo Moyes. Meeting 84317079488 Passcode 534202

December 4: Young Adult Christmas Movie Night! If you're a young adult (after college-35ish) or in Next Chapter, we're going to get together for a Christmas movie night! December 4 at 7 we'll be here at the church to watch How the Grinch Stole Christmas (the Jim Carrey version) with popcorn and hot chocolate! Register on Realm to let us know you're coming and join us for a fun night in! CLICK TO RSVP

December 7: Retiree Ministry's Christmas Celebration - Join the Retiree Ministry as we celebrate the Christmas season with singing, food, and fellowship on Tuesday, December 7th at 11:30 in the King Avenue Church Fellowship Hall. The celebration will include a White Elephant Gift Exchange and a boxed-lunch. Please bring a wrapped gift that is re-cycled, re-gifted or purchased (no more than $10) for the White Elephant Gift Exchange. To reserve your boxed-lunch, please RSVP via Realm or to Teresa Malloy @malloy29@aol.com by DECEMBER 3rd. If you are in need of transportation, please contact Angela Finney @finneyhorse@icloud.com. We will be following KAUMC COVID policies for this event.

Through December 7: Bethlehem on Broad - There are lots of different ways to mark the holiday season and there is no better way to celebrate the birth of Christ than through Bethlehem on Broad Street. Bethlehem on Broad Street began 30 years ago in response to a single request for dinner on Christmas Day at the St. Lawrence Haven. The event has expanded to several thousand guests each year through the efforts of churches of different denominations, different faiths, and organizations on and off Broad Street. On Saturday, December 11, 2021, Bethlehem on Broad will provide food boxes with gift certificates for sundries from 9:00 a.m. to 4:00 p.m. at the Broad Street United Methodist Church, 501 E. Broad Street. This year King Avenue has committed to providing 150 boxes and a team of volunteers for the event. This will be an outdoor event with drive thru service to those in need. If you are interested in volunteering, please contact Shawn Compton at comptonlaw@msn.com. Boxes will be available in the Fellowship Hall beginning Sunday, November 14th. All boxes must be filled and returned to King Avenue's Fellowship Hall (north classroom) by Wednesday, December 7th so that they can be delivered to Broad Street UMC for distribution. CLICK HERE TO DOWNLOAD THE SHOPPING LIST.

Through December 12: Hubbard School Holiday Help - You can help to make a neighborhood family's Christmas a little brighter! 1) Pick up a tag from the Hubbard School Holiday Help tree located in the Milling Area at the rear of the Sanctuary 2) Purchase item on the back of the tag. 3) Return UNWRAPPED item to church by Dec. 12th. Need ideas? CLICK FOR GIFT IDEAS. Questions? Contact Erin@kingave.org.

December 12 & 19: UMW Ornament Sale - The United Methodist Women will be selling ornaments after both services. The money raised will go to missions.

December 12: Heartsong Concert - Join Heartsong on December 12 at 4:30 in the King Avenue UMC Sanctuary for their "Songs of the Season" concert. A freewill offering will be collected and donated to NNEMAP Food Pantry. Social distancing and masks will be required.

December 12: Retired Clergy Christmas Celebration - Are you retired clergy? After the Heartsong concert, all retired clergy and their partners are invited for a Christmas Celebration from 5:30-6:30 in the parlor.

December 19: A Service of Lessons and Carols - Join our musicians and instrumentalists for a service of music on December 19 at both the 9am & 11am worship. Come in person, bring a friend, or watch the livestream.

December 19: All-Church Christmas Caroling - Mark your calendars for Sunday, December 19 from 1:00-2:00 for Christmas Caroling! All are welcome!

December 21: Blue Christmas Worship - Not everyone feels like celebrating the holidays with great cheer. For those who have experienced the recent loss of a loved one or other serious grief, observance of Christmas may evoke as much melancholy as joy. Blue Christmas worship is Tuesday, December 21 at 7 pm in the Sanctuary. Falling on the winter solstice, this contemplative, candlelit service will include opportunity for persons to remember loved ones, to pray for the world, and to remember God's love shared freely in Christ. This service will be in-person and livestreamed.

December 24: Christmas Eve Worship
*4:30pm - Family Christmas Eve Service (This service will be in-person and livestreamed.)
*7:00pm - Candlelight Christmas Eve Worship (This service will be in-person and livestreamed.)
*8:00pm - Communion in the Chapel
*9:00pm - Candlelight Christmas Eve Worship (This service will be in-person and livestreamed.)
FAITH FORMATION, FELLOWSHIP, AND SUPPORT
Kinship Campus Ministry - Kinship Campus Ministry is a community of faith and fellowship for young people (high school graduates through age 24), with a focus on college campuses in Columbus, Ohio. This is a church-based ministry where curiosity is encouraged and embraced. Change is normal and we seek to celebrate the ways in which our beliefs evolve during life transitions. Kinship Campus Ministry seeks to build connections within The OSU campus, reach out to high school graduates of King Avenue United Methodist Church, and facilitate meaningful fellowship on a regular basis. CLICK TO LEARN MORE

Nursery Care is Back! Childcare for babies and toddlers (up to 3 years old) will be available during worship again beginning November 7 on a limited basis. Nursery will be open at 8:45am-12:15pm on Sundays.

Worship Connections - During worship, we welcome our friends age 4 - Grade 3 to join us for Worship Connections (note: 1st Sunday of the month, children will remain in worship with their families for Family Sunday). Grade 4 and up to remain in worship with their families. We are hopeful to be able to offer nursery care for our King Avenue children under age 4 this fall. Thank you for your understanding and patience as we prepare a safe environment for these children. If you have any questions about Worship Connections or Sunday School, please contact Gwendolyn.DeRosa@gmail.com. If you have questions about nursery care, please contact Erin@kingave.org. Please refer to the next announcement item for all of the Sunday morning programming for Children, Youth, and Families.

Sundays: Children, Youth and Family Ministry -
-Worship Connections 9:00 & 11:00 for ages 4 through grade 3 (Room L4, lower level)
-NO Worship Connections on Communion Sundays (1st Sunday), but participate in NEW Family Communion Sundays.
-Sunday School Hour 10:00 - Godly Play 4 year and KG (L4)
-Sunday School Hour 10:00 - Godly Play Grades 1-3 (L5)
-Sunday School Hour 10:00 - Family Godly Play (Chapel)
-Sunday School Hour 10:00 - Chrysalis Club Grades 4-5 (NEW classroom L4+)
-Sunday School Hour 10:00 - C.O.R.E. Youth Grades 6t-12 (Donnenwirth)
-Sunday School Hour 10:00 - Real People, Real Parenting Small Group (Fireside Room)

Serve as an Acolyte - If you are in 4th - 12th grade, you are invited to serve as an acolyte during 9am or 11am worship. Contact Erin Kendall at erin@kingave.org for more details.

CORE Youth Center is a virtual place for youth! Are you looking for online faith resources for your youth (6th to 12th grades)? King Avenue UMC's Children and Youth Education Program created an inclusive and affirming website to fit this need. Think of this as a home base as you stretch, grow, and explore your faith and your identity as a Jesus follower. What you believe, think, and feel will change during your Middle and High School years. And your journey will not end when you graduate. Our faith journeys continue for our whole lives. Check out the CORE Youth Center here: https://sites.google.com/view/coreyouthcenter/home and contact Gwendolyn DeRosa at gwen@kingave.org if you would like to help create new content.
OPPORTUNITIES TO HELP
Back