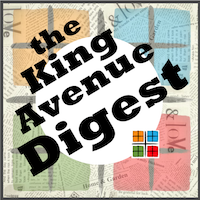 King Avenue Digest 12/21/18
December 21, 2018
The King Avenue Digest highlights the biggest "good of the order" events, and those that are most close at hand. Use the link below to view the full Digest for more comprehensive happenings organized by ministry/category that pertain to you. There are LOTS of events this month, so check out the website to look ahead!

Click here for the FULL King Avenue Digest
Click here to download a printable Pew Insert for Advent & the New Year
Prepare for Advent - View the Advent Page on the King Avenue Website

* Featured Announcements *
---
Christmas Carol Hymn Sing
Sunday December 23 at 10am in the Chapel
Make a joyful noise unto the Lord by singing some of your favorite Advent and Christmas hymns. Learn fun carol facts and histories too. Robin Shockney and Beth Aiello will be your choirmistresses. Ages 11 and up.

Listen to or Watch Sermons
In this busy holiday season, you may find yourself away from King Avenue on the weekends. Never fear! You can still catch the sermon on either YouTube (video) or SoundCloud (audio podcast).
CLICK HERE FOR SOUNDCLOUD

Art Exhibit for Christmas
The theme of the sanctuary decorations this December is "The Colors of Christmas." We would like to carry that into the gallery. Bring a colorful ornament! Also if you have a favorite holiday photo, make a copy and clip it to the roping. At the end of December we would like to keep all the ornaments and photos and make a huge wreath that we can display for years to come.
READ MORE

Christmas Eve Service Rehearsals
Sunday, December 23 at 4pm (Dress Rehearsal)

King Avenue Hosted Hubbard Mastery School for Thanksgiving
Colleen's December 9 sermon was connected to thank-you notes from the Hubbard Mastery students. She spoke of spending time in advent preparing our hearts to believe and be open to God's Love, almost too good to be true! Preparing sometimes takes patience, and that's what our partnership with Hubbard Mastery School has been. Without explicitly teaching children about God's love, they are learning about it through their experiences.
Listen to the Sermon
View the Children's Thank-You Notes

Afternoon/Evening Christmas Eve Services
Family Worship – 4:30 in the Sanctuary
Candlelight Service – 7:30 in the Sanctuary (child care available)
Candlelight Service – 11:00 in the Sanctuary
Our Vision Statement
"We are a community of servants called by God's reconciling grace to open doors of sanctuary, to create new avenues of ministry, to equip Christians for discipleship, to lead reconciling ministries."




* Worship *
---
Prepare for Sunday by Reading the Preaching Texts
Check out the Preaching Text page on our website for listing of the scriptures to be used in sermons.

Listen to Sermons
Listen from our website

* Faith Formation *
---
Faith Dive Sunday School – Adult Class
Faith Dive Sunday School class meets at 10:00 am in the Logos Lounge (L1). Join us in a class with a focus on "Who is My Neighbor?"
READ MORE
Christmas Carol Hymn Sing
Sunday, December 23 at 10am in the Chapel
Make a joyful noise unto the Lord by singing some of your favorite Advent and Christmas hymns. Learn fun carol facts and histories too. Robin Shockney and Beth Aiello will be your choirmistresses. Ages 11 and up.

* King Avenue Children, Youth, & Family Ministries *
---
King Avenue Children, Youth, and Family Ministries
Worship Connections
Kids Ages 4 – Grade 3
9am - Big Classroom (Lower Level)

11am - Big and Small Classrooms (Lower Level)
Sunday School Hour at 10am – There's Something for Everyone!
Sr. High (Grades 9-12) Donnenwirth Lounge (Upper Level)

Middle School/Jr. High (Grades 6-8) Fellowship Hall Classroom (Lower Level)

Godly Play (Grades 2-5) Big Classroom (Lower Level)

Godly Play (Ages 4- Grade 1) Small Classroom (Lower Level)

Real People Real Parenting Small Group Fireside Room (Upper Level)
Family Service Opportunities
Looking for ways for your family to serve at King Avenue? Ask Erin for more information and to get started!
Volunteer with Worship Connections or Sunday School (See Gwen DeRosa for more details)

Acolyte once a month at Morning Blend or 11am Worship (Kids Grade 4-12)

Become a Greeter once a month for Morning Blend or 11am Worship (All Families, All Ages)

Help with Morning Blend Family Tables (All Families, All Ages)

Participate in a Youth Service Project (Kids Grades 6-12)

Join the King Avenue Lunch Packing Group (All Families)

Volunteer at NNEMAP (All Families)
Real People. Real Parenting.
All parents are welcome Sundays from 10:00-10:45am in the Fireside Room.
READ MORE

Christmas Eve Service Rehearsals
Sunday, December 23 at 4pm (Dress Rehearsal)

Family Christmas Eve Service
Monday, December 24 at 4:30pm

Kids sing in worship
Sunday, December 30 at 9 & 11am
* SPECTRUM *
---
Coming Out with God Support Group
Coming Out with God is an adult, faith-based discussion group offering support and encouragement for anyone in the "coming out" process. We use various resources that emphasize God's grace and unconditional love. The group focuses on and strives to deepen our identity in Christ as we come out to family, friends, coworkers, etc. We welcome all, whether you are in need of support or you wish to encourage others by sharing your own "coming out" experiences. We meet in six-week sessions Wednesdays, 7pm at King Ave United Methodist Church. Acknowledging that "coming out" is more a process than an event, you are welcome to attend the group in the way that fits your needs: attending a six-week session, dropping in as desired, or becoming an ongoing member. For questions and meeting schedule, contact Mary Bostian, kingcowg@gmail.com.

* Young Adults *
---
* Campus Ministry *
---
GRAD CHAT - Graduate and Professional Student Lunch
Second Sundays of the month at noon in Fellowship Hall. Contact Colleen Ogle for more information. Visit buckeyemethodists.com to keep up on all the latest events.
* Mission and Outreach *
---
Open Shelter Lunch Packing Dates
Tuesdays: December 25 2018
Thursdays:
Serve Breakfast at Gates Fourth UMC, 8:30-10:00
4-5 volunteers serve food and wash dishes on the fourth and fifth Saturdays of every month from 8:30-10:00 at Gates Fourth UMC. Gates Fourth is located at 119 E Gates St, Columbus OH, 43206.
Donate New & Gently-Used Clothes
King Ave ClothesShare (boxes on the first floor) - Infant and Toddle Sizes passed down to other King Avenue families.

Clothes for Kids (boxes on the first floor) - Children's sizes (new and gently-used) given to children at Hubbard Mastery School
* Fellowship *
---
All-Church Luncheons
All-church lunches are generally the last Sunday of the month in Fellowship Hall at noon. It is free to eat, but a free will offering is welcome. All are welcome to the table!

Lit Club is held on the last Sundays of the month, 7pm, in the Logos Lounge
January 27:

* The Arts *
---
Art Exhibit for Christmas - Advent & Art: An Interactive Exhibit
* Sanctuary Decorations
The theme of the sanctuary decorations this December is "The Colors of Christmas."
* In the Gallery
Nativities from the collection of Peggy Garrison will be on display. YOU are the feature in the interactive part of the gallery. Bring a colorful ornament! Also if you have a favorite holiday photo, make a copy and clip it to the roping. At the end of December we would like to keep all the ornaments and photos and make a huge wreath that we can display for years to come. into the gallery.
READ MORE
* Stay in the Loop *
---
For this and other King Avenue news, visit our website at kingave.org.
Like us on Facebook at King Avenue UMC
Follow us on Twitter at @kingaveumc
Join the Twitter chat at #KAChurchChat
Back