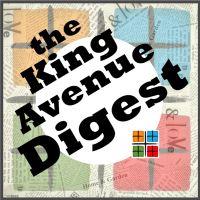 King Avenue Digest 3/10/18
March 10, 2018
Check out the featured announcements on the King Avenue Digest, then click on the links to read more. The rest of the Digest has more comprehensive happenings organized by ministry/category announcements that pertain to you. You can also download the Carillon to get the full picture!

Click HERE to download this month's Carillon Newsletter.
Click HERE to download this month's calendar highlights.

* Featured Announcements *
---
TIME CHANGE!
Don't forget to set your clocks AHEAD an hour tonight so that you don't miss church on Sunday.

King Avenue Players
Our Towne by Thorton Wilde
There are still a couple of chances to see King Avenue Players performance of Our Town. Performances Saturday, March 10 at 7:30pm and Sunday, March 11 at 3:00pm. Admission is free, but a $10 donation is recommended.
READ MORE

AIDSWalk Ohio 2018
Support the SPECTRUM–King Avenue 2018 AIDSWalk team effort by donating to the team.
CLICK HERE TO JOIN OR DONATE TO THE KING AVE TEAM

UMCOR Sunday - Special Offering
UMCOR Sunday, March 11, allows The United Methodist Church to respond when disaster strikes. Think of UMCOR as our "Go Team" who can be present when help is needed. Unlike other benevolent causes, UMCOR receives no funds from the regular United Methodist Church budget. 100 percent of all other donations go toward specific relief projects.
READ MORE

Easter Flower Orders
The deadline to order Easter flowers is Sunday, March 11. The flowers will be displayed in our worship spaces on Easter, April 1
READ MORE

Prayer Partners Informational Sessions
Sunday, March 11 at 10am and noon
Do You Feel Called to a Service of Prayer? There are two ways that you can serve in a ministry of prayer at King Avenue: become part of the Prayer Team or serve as a Prayer Partner. You can learn about both of these ministries in one of two sessions led by Trecia Holdren, leader of the Prayer Partners, and Rev. Colleen Ogle, leader of the prayer team, on March 11. If you are interested, please attend.
READ MORE

Faure' Requiem
King Avenue Chancel Choir and Orchestra present Requiem by Gabriel Faure' on Sunday, March 18 during the 11am Service. This is a good opportunity to invite family and friends to church - enjoy some wonderful music, worship, and fellowship.
King Avenue Art Gallery Show - Family
Family, a collaborative art exhibition by King Avenue Children Youth and Families – 
It's our time to let our creativity shine! King Avenue Children and Youth will be featured in the King Avenue UMC Gallery from March 18 through April 22.
READ MORE

Invitation to Fast During Lent
Some people have expressed an interest to set aside a time of corporate fasting. It is a time when we combine our thoughts and voices to pray for our nation, our state and city our leaders, our church and ourselves to seek God's Voice to lead us to a deeper understanding of Himself and how to minister to each other, both inside and outside the walls of our church. Due to medical conditions, etc., everyone can decide if they wish to fast for one meal or the entire day, that is your personal choice. Please, speak with your doctor or other professional if you have conditions that may prevent fasting from food to ensure you get medical approval. You may also participate with another type of fast, for example, by spending an hour or more without using electronics or social media and instead focus yourself in prayer on God.
READ MORE

The Apostles' Creed - Lenten Sunday School Class
Sundays, February 18 - March 25
10:00am in the Chapel
READ MORE

Holy Week Worship
Palm Sunday – March 25, 9am and 11am
Holy Thursday – March 29, 7pm
Good Friday Tenebrae Service – March 30, 7pm
Easter – April 1, 9am and 11am

Tenth Annual Cuisine for a Cause
Cuisine for a Cause, a Benefit for Casa de Misericordia Orphanage in Piedras Negras Mexico
March 23, 2018 beginning at 6:00pm
Strongwater Food & Spirits
READ MORE

Our Vision Statement
"We are a community of servants called by God's reconciling grace to open doors of sanctuary, to create new avenues of ministry, to equip Christians for discipleship, to lead reconciling ministries."

* Worship *
---
Prepare for Sunday by Reading the Preaching Texts
Check out the Preaching Text page on our website for listing of the scriptures to be used in sermons. During Lent the sermons will draw upon Abraham Heschel's book Sabbath. For added enrichment, you may want to obtain this brief book.

UMCOR Sunday - Special Offering
UMCOR Sunday, March 11, allows The United Methodist Church to respond when disaster strikes. Think of UMCOR as our "Go Team" who can be present when help is needed. Unlike other benevolent causes, UMCOR receives no funds from the regular United Methodist Church budget. 100 percent of all other donations go toward specific relief projects.
READ MORE

Easter Flower Orders
The deadline to order Easter flowers is SUNDAY, MARCH 11. The flowers will be displayed in our worship spaces on Easter, April 1
READ MORE
Prayer Partners Informational Sessions
Sunday, March 11 at 10am and noon
Do You Feel Called to a Service of Prayer? There are two ways that you can serve in a ministry of prayer at King Avenue: become part of the Prayer Team or serve as a Prayer Partner. You can learn about both of these ministries in one of two sessions led by Trecia Holdren, leader of the Prayer Partners, and Rev. Colleen Ogle, leader of the prayer team, on March 11. If you are interested, please attend.
READ MORE

Invitation to Fast During Lent
Some people have expressed an interest to set aside a time of corporate fasting. It is a time when we combine our thoughts and voices to pray for our nation, our state and city our leaders, our church and ourselves to seek God's Voice to lead us to a deeper understanding of Himself and how to minister to each other, both inside and outside the walls of our church. Due to medical conditions, etc., everyone can decide if they wish to fast for one meal or the entire day, that is your personal choice. Please, speak with your doctor or other professional if you have conditions that may prevent fasting from food to ensure you get medical approval. You may also participate with another type of fast, for example, by spending an hour or more without using electronics or social media and instead focus yourself in prayer on God.
READ MORE

Holy Week Worship
Palm Sunday – March 25, 9am and 11am
Holy Thursday – March 29, 7pm
Good Friday Tenebrae Service – March 30, 7pm
Easter – April 1, 9am and 11am


Listen to Sermons

* Faith Formation *
---
Blessed Believers – Adult Sunday School Class
Sundays at 10am in the Infant & Parent Room U2

Disciple Bible Studies—a new start for the new year
*Disciple I Fast Track: Becoming Disciples Through Bible Study
Wednesday mornings, 10-11:30am in the Centennial Room
Wednesday evenings, 7-8:30pm in the Centennial Room
January 10 - April 4 (excluding Ash Wednesday, February 14)

*Disciple II Fast Track: Into the Word, Into the World
Wednesday evenings, 7-8:30pm in the Chapel
January 10 - April 4 (excluding Ash Wednesday, February 14)
READ MORE
The Apostles' Creed - Lenten Sunday School Class
Sundays, February 18- March 25
10:00am in the Chapel
READ MORE

Discussions on the Opioid Epidemic

Sundays, April 8-29 at 10am in the Chapel
READ MORE

* King Avenue Children, Youth, & Family Ministries *
---
Sunday Worship Connections
9:00am Ages 4 – Grade 1
11:00am Ages 4 –Grade 3

Sunday School from 10:00 –10:45am
Age 4 – Grade 5, Godly Play, Big & Small Classrooms (Lower Level)
Grade 6 – 8, Youth Sunday School, Fellowship Hall Classroom (Lower Level)
Grade 9 – 12, Youth Sunday School, Donnenwirth Lounge (Upper Level)
Real People. Real Parenting.
Drop-in Small Group Discussion
Sundays from 10:00 - 10:45am
Infant/Parent Room
READ MORE

King Avenue Art Gallery Show - Family
Family, a collaborative art exhibition by King Avenue Children Youth and Families – 
It's our time to let our creativity shine! King Avenue Children and Youth will be featured in the King Avenue UMC Gallery from March 18 through April 22.
READ MORE

Eggstravaganza 2018
Sat, Mar 24 at 10am
King Avenue Fellowship Hall, Chapel, Parlor & Classrooms
READ MORE


* SPECTRUM *
---
Coming Out with God
Wednesdays beginning January 10
7:00 - 8:00 in Donnenwirth Lounge
READ MORE

SPECTRUM Hosts All-Church Luncheon
Volunteers Needed - March 25 - Join your King Avenue Family following the 11 a.m. Service on Sunday March 25 for lunch and fellowship. Please email Steve at expect.sh@gmail.com to volunteer for the following times: 8-10 prep & cook, 10 - 12 cook & serve, 12-1:30ish serve, cleanup and room reset.

AIDSWalk Ohio 2018
Support the SPECTRUM–King Avenue 2018 AIDSWalk team effort by donating to the team.
CLICK HERE TO JOIN OR DONATE TO THE KING AVE TEAM

PROM FOR ALL!
Mark your calendars, and get your promposals ready! Saturday, May 12 is the Prom for ALL! Details coming soon!
READ MORE

* Young Adults *
---
* Campus Ministry *
---
Sundays at 10:00am
Sunday mornings in the Logos Lounge (L-1) college students come together to share in faith and process life opportunities, challenges, and questions together. Each week begins with a Bible study, devotions, and prayer. Then the floor will be open to discuss life, current events, and issues facing the church. In the midst of our discussions, we'll seek to listen to and learn from what God's Word reveals and to be respectful and supportive of one another. Come and be among "open hearts, open minds, and open doors." Here at King Ave Campus Ministry ALL are Welcome!


* Mission and Outreach *
---
Collection for the Homeless
In January and February, King Avenue will be collecting items for Blessing Bags to support the Open Shelter and Faith Mission shelters. Gallon sized bags with lists of items will be available at a table between services starting January 7, 2018. Bags are due back filled by Sunday February 25.
READ MORE

10th Annual Cuisine for a Cause
Cuisine for a Cause, a Benefit for Casa de Misericordia Orphanage in Piedras Negras Mexico
March 23, 2018 beginning at 6:00pm
Strongwater Food & Spirits
READ MORE

Open Shelter Lunch Packing Dates
Tuesdays: March 27, April 24, May 29, June 26, July 24, August 28, September 25, October 30, November 27, December 25 (2018)
Thursdays: March 15, April 19, May 17, June 14, July 19, August 16, September 20, October 18, November 15, December 20 (2018)

Serve Breakfast at Gates Fourth UMC, 8:30-10:00 - 2017 Opportunities
4-5 volunteers serve food and wash dishes on the fourth and fifth Saturdays of every month from 8:30-10:00 at Gates Fourth UMC. Gates Fourth is located at 119 E Gates St, Columbus OH, 43206.

Donate New & Gently-Used Clothes
King Ave ClothesShare (boxes on the first floor) - Infant and Toddle Sizes passed down to other King Avenue families.

Clothes for Kids (boxes on the first floor) - Children's sizes (new and gently-used) given to children at Hubbard Mastery School
* Fellowship *
---
All-Church Luncheons, Last Sundays of the Month from 12:00-1:00 in Fellowship Hall

Lit Club – The last Sunday of the month, 7pm, Logos Lounge
March 25 – A Gentleman in Moscow by Amor Towles
April 29 – Manhattan Beach by Jennifer Egan


* The Arts *
---
King Avenue Players
Our Towne by Thorton Wilde
Performances Thursday, March 8 at 7:30pm, Friday, March 9 at 7:30pm, Saturday, March 10 at 7:30pm, and Sunday, March 11 at 3:00pm.
Admission is free, but a $10 donation is recommended.

Faure' Requiem
King Avenue Chancel Choir and Orchestra present Requiem by Gabriel Faure on Sunday, March 18 during the 11am Service. This is a good opportunity to invite family and friends to church - enjoy some wonderful music, worship, and fellowship.

Miscast Cabaret
Auditions – April 8 and April 9 at 6:30pm.
MISCAST CABARET will be performed, one night only, at King Avenue UMC on Saturday, May 19.
READ MORE


* Stay in the Loop *
---
For this and other King Avenue news, visit our website at kingave.org.
Like us on Facebook at King Avenue UMC
Follow us on Twitter at @kingaveumc
Join the Twitter chat at #KAChurchChat
Back