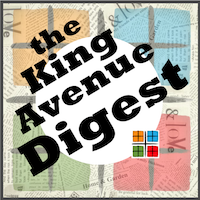 King Avenue Digest 3/8/19
March 7, 2019
The King Avenue Digest highlights the biggest "good of the order" events, and those that are most close at hand. Look through the articles on our Home Page (kingave.org) or within ministry and mission pages for more comprehensive happenings that pertain to you.

CLICK HERE to download the March 2019 Carillon Newsletter.

* This Week's Highlights *
Daylight Savings Time Begins this weekend!
Don't forget to set your clocks ahead when you go to bed on Saturday night so you're not late for church!

Response to United Methodist Conference Special Session, St. Louis, 2019
Visit the newest page (Worship heading – General Conference Response) on our website, dedicated to collect articles, events, videos, and resources to keep you informed about the latest on this issue.
"The decision of the legislative session to recommend the Traditionalist Plan instead of the the One Church Plan is deeply disturbing, disappointing, and discouraging. It is tragic and short-sighted that many still do not see how LGBTQ persons bless the mission of Christ's Church. Also, and just as important, Colleen and I shall continue to be honored to be your pastors. King Avenue will remain a welcoming, reconciling, and serving church which shares God's love with ALL! King Avenue Church will not change what it is and what it stands for."

– Pastor John Keeny, King Avenue Church
'It is crucial to remember that we are in committee now and that the General Conference plenary will determine final decisions. These are tender moments that invite our continued prayers and good faith. At one and the same time, we have a great challenge and an enormous missional opportunity."

– Bishop Gregory V. Palmer, West Ohio Conference
March 10 – Debriefing the Special General Conference
* Sunday, March 10 at 10am, Chapel – Impressions and Reports from the United Methodist Church General Conference
READ MORE

Additional Articles Relating to the Decisions at General Conference
AIDSWalk 2019 – Donate or Walk
Support the SPECTRUM - King Avenue 2019 AIDSWalk team effort by donating to the team. Our team is already in the top ten... Let's help them WIN!
CLICK HERE TO JOIN OR DONATE TO THE KING AVE TEAM.
Contact a team member if you want to join them on Saturday, April 13 for the walk. Jonathan Zornes, Terry Adkins, John Keeny, Jack Rench
Sermon Series February & March
The sermons in February and March will be based on the ideas in Jonathan Merritt's Learning to Speak God from Scratch. We struggle to talk about faith and faith related issues. Many sacred words have become so loaded with negative connotations that we avoid them. As a consequence we avoid conversations which could deepen our faith and the faith of others. We miss the reality behind the word. Each week the sermon will attempt to look a word in a fresh way. Words such as God, pain, disappointment, prayer, confession, fall, creed, lost, and perfection.
CLICK HERE FOR PREACHING SCRIPTURE

Beginning March 4 or March 13 – 8 Week Grief Support Workshop
People say you have to let go and move on in your life, but they don't tell you what you need to do to accomplish that. The Grief Recovery Method® Outreach Program not only makes that possible, but also provides partnerships and guidance to ensure that it happens.
Cost – $40/person
READ MORE & REGISTER
March 9 – UMW Women's Retreat: Made in the Image of God
Women and girls (grade 4 and up) are welcome to the UWM Spring Retreat on March 9. The guest speakers will be Rev. Linda Middleburg, Arykah Carter, Rev. Karen Cook, & Trecia Holdren.
READ MORE & REGISTER

Beginning March 3 – Class on the Parables
For six Wednesday nights, March 13 – April 17, 7pm in the Fireside Room, John Keeny will lead Short Stories by Jesus. The series will be based on Amy-Jill Levine's book by the same name.
READ MORE

Beginning March 17 – Sunday Morning Lenten Study
Rev. Mark Beckett will lead a study of Amy-Jill Levine's book, Entering the Passion of Jesus: A Beginner's Guide to Holy Week on Sundays at 10am during March and April (March 17-April 28).
READ MORE
Beginning March 15 – Caribbean Dance Classes
For a Healthy, Exhilarating, Fun, Absolutely Unique, Exercise Opportunity. King Avenue UMC member Meka Edmondson and drummer Ayende West will lead six sessions of Caribbean Dance classes for persons of all skill levels, including beginners! Classes will meet Friday evenings from 6:30-8:00pm on March 15, 22, April 5, 12, 26 and May 3. The first class is free—so you can check it out and subsequent classes will be $10/session. Classes will be held in the Chapel on carpeted floor. Wear comfortable clothing.
READ MORE
March 15 – Young Adults Chili & Game Night!
Join us at the church in the parlor for an evening of chili (including veggie) and table/party games. The Young Adult Leadership Team will provide the chili; bring a snack or dessert to share and your favorite games!
When: Friday, March 15th, 2019 6:30 – 8:30PM
Where: King Avenue Parlor

Due March 16 – We have some important questions that only you can answer!
Your Missions Ministry Team wants your help to make plans for our church missions. Please take time to complete this short survey. Click on the link below for the electronic link, or obtain a paper version at the Welcome Desk. Please complete your survey by Sunday, March 16th. Thank you in advance for your input!
CLICK HERE TO COMPLETE THE SURVEY

March 30 – ROOTS & WINGS CHRISTIAN PARENTING WORKSHOP and CHIP RICHTER IN CONCERT
King Avenue UMC on Saturday, March 30th
"Roots and Wings" Parents Workshop (requires registration with workshop/$20 per family) 10am-12pm in Chapel
Childcare for children under age 4 available upon request from 9:30am-12pm
Children's Program for children age 4 – grade 3 will be provided from 10am-12pm for families registered for "Roots and Wings" Parents Workshop
Optional Lunch (requires registration with workshop/$3 per person) 12pm-1pm in Parlor
Family Concert featuring Chip Richter 1:30-3pm in Fellowship Hall
READ MORE - Download Flyer and Register

Beginning March 3 – Art Gallery in March/April
As We are Created, We Create – Art by King Avenue Children
We are still accepting artwork! Please see Erin if you have artwork to contribute to the show or if you have any questions.
CLICK TO DOWNLOAD FLYER

Next Meeting April 3 – Retirees Ministry
Retired or Semi-Retired? Want to Connect with Others in our Church? The Retirees Ministry Launch event is Wednesday, April 3 from 11am-1pm at the church. The session will feature devotions from Rev. Grayson Atha, fellowship, lunch, and more, including opportunities for you to share your hopes and ideas for what the Retirees Ministry can do and become.
READ MORE
Mark Your Calendars for April 5 – Cuisine for a Cause 2019
The eleventh annual Cuisine For A Cause will be held on April 5 at Strongwater Food & Spirits in Franklinton. Doors open at 6:00 PM, and the event will feature catering by Lindey's, cash bar, a silent auction with many great items up for bid, live music by HeartSong, and the opportunity to visit with your King Ave family. Tickets are $75 each, and $50 of each ticket price is considered a donation to the orphanage.
READ MORE
Sale May 10 & 11 – UMW Rummage Preparations
The next United Methodist Women's Rummage Sale will be May 10 and 11. We welcome sorting help... both men and women. Sorting days, 9:30 to noon in Fellowship Hall, include snacks and lots of laughs! March 4, 14, 18, and 28.

SPECTRUM Events Coming Up
SPECTRUM All-Church Luncheon 3/24/19

Ushering King Avenue Players' production of "Doubt" 3/28-3/30/19

AIDS Walk Ohio 4/13/19

Pride Parade Sign-Making Party 5/5/19 (after church services)

KAUMC Pride Luncheon 6/9/19

Pride Service 6/14/19 (location TBA)

Columbus Pride Parade 6/15/19
KACYFM Happenings:
Mark your calendars for the upcoming February and March events for King Avenue Children, Youth, and Family Ministries. Click here to download the FEB/MARCH Flyer.
Friday, March 15, 6:30-9:30pm: Youth Friday Fun Night - BOWLING AT SEQUOIA LANES! Meet at 6:30. $10 includes pizza, pop, and bowling.
Friday, March 22, 6-8:30pm: Parents' Evening Out
Saturday, March 30: Workshop 10-12, Optional Lunch 12-1, Concert 1:30-3:00 Roots & Wings Parents Workshop & Family Concert with Chip Richter
Sunday, April 7, 4-6: Youth Group 

Friday, April 12, 6:30-9:30: Youth Family Fun Night

Saturday, April 13, 10am - 12pm: Eggstravaganza Easter Party

Sunday, April 14, Palm Sunday – Kids pass out palm branches in worship
Sunday, April 21, Easter- no Sunday School
Friday, April 26, 6-8:30pm: Parents' Evening Out

Sunday, April 28, 12-1pm: West Ohio Camps Informational Lunch
NNEMAP Food Pantry News
Read the February News from NNEMAP including information about a volunteer position, new website, volunteer luncheon, Harmony for Hunger fall date, and donation needs.
READ MORE

NNEMAP is Hiring!
READ MORE
Our Mission Statement
"We invite, welcome and honor all people and nurture them to grow in service with Christ."
Our Vision Statement
"We are a community of servants called by God's reconciling grace to open doors of sanctuary, to create new avenues of ministry, to equip Christians for discipleship, to lead reconciling ministries."



* Worship *
---
Worship at King Avenue Church
King Avenue has two different worship services each Sunday. Worship each Sunday is at 9:00am, and 11:00am.
9:00 Morning Blend: This is a smaller, more informal service is in Fellowship Hall. Coffee and donuts are available before and throughout the service. The music is eclectic and the atmosphere is friendly and relaxed.
11:00 am Traditional Worship: This traditional service in the sanctuary featuring the music of our wonderful Chancel Choir and our very talented organist. Sign Language Interpretation is available the 2nd and 3rd Sundays of each month. Dress is casual.
Additional Opportunities for Adults, Children, and Families
8:45–12:15 Nursery Care: Birth – Age 3 Nursery (Upper Level)
9:00 Morning Blend Worship Connections; Age 4 - Grade 1 (Classroom L4)
10am Sunday School Hour
Sr. High (Grades 9-12) Donnenwirth Lounge (Upper Level)
Middle School/Jr. High (Grades 6-8) Fellowship Hall Classroom (Lower Level)
Godly Play (Grades 2-5) Big Classroom (Lower Level)
Godly Play (Ages 4- Grade 1) Small Classroom (Lower Level)
Adult Sunday School Watch the website for specific offerings as these vary
11:00am Worship Connections : Age 4 – 5 (classroom L5), Grades 1 - 3 (classroom L4)
Prepare for Sunday by Reading the Preaching Texts
Check out the Preaching Text page on our website for listing of the scriptures to be used in sermons.
Listen to Sermons
Listen from our website

* Faith Formation *
---
Faith Dive Sunday School – Ongoing Adult Class
Faith Dive Sunday School class meets at 10:00 am in the Logos Lounge (L1).
READ MORE

Additional Faith Formation Classes
Visit our Adult Faith Formation Page for more information about additional faith formation opportunities.
* King Avenue Children, Youth, & Family Ministries *
---
King Avenue Children, Youth, and Family Ministries
Worship Connections
Kids Ages 4 – Grade 3
9am - Big Classroom (Lower Level)

11am - Big and Small Classrooms (Lower Level)
Sunday School Hour at 10am – There's Something for Everyone!
Sr. High (Grades 9-12) Donnenwirth Lounge (Upper Level)

Middle School/Jr. High (Grades 6-8) Fellowship Hall Classroom (Lower Level)

Godly Play (Grades 2-5) Big Classroom (Lower Level)

Godly Play (Ages 4- Grade 1) Small Classroom (Lower Level)

Real People Real Parenting Small Group Fireside Room (Upper Level)
Family Service Opportunities
Looking for ways for your family to serve at King Avenue? Ask Erin for more information and to get started!
Volunteer with Worship Connections or Sunday School (See Gwen DeRosa for more details)

Acolyte once a month at Morning Blend or 11am Worship (Kids Grade 4-12)

Become a Greeter once a month for Morning Blend or 11am Worship (All Families, All Ages)

Help with Morning Blend Family Tables (All Families, All Ages)

Participate in a Youth Service Project (Kids Grades 6-12)

Join the King Avenue Lunch Packing Group (All Families)

Volunteer at NNEMAP (All Families)
Real People. Real Parenting.
All parents are welcome Sundays from 10:00-10:45am in the Fireside Room.
READ MORE

Additional Children, Youth, and Family Ministry Happenings.
Visit our KACYFM Page for more information about upcoming events.




* SPECTRUM *
---
Coming Out with God Support Group
Coming Out with God is an adult, faith-based discussion group offering support and encouragement for anyone in the "coming out" process. We use various resources that emphasize God's grace and unconditional love. The group focuses on and strives to deepen our identity in Christ as we come out to family, friends, coworkers, etc. We welcome all, whether you are in need of support or you wish to encourage others by sharing your own "coming out" experiences. We meet in six-week sessions Wednesdays, 7pm at King Ave United Methodist Church. Acknowledging that "coming out" is more a process than an event, you are welcome to attend the group in the way that fits your needs: attending a six-week session, dropping in as desired, or becoming an ongoing member. For questions and meeting schedule, contact Mary Bostian, kingcowg@gmail.com.

Additional SPECTRUM Happenings.
Visit our SPECTRUM Page for more information about upcoming events.
* Campus Ministry *
---
GRAD CHAT - Graduate and Professional Student Lunch
Second Sundays of the month at noon in Fellowship Hall. Contact Colleen Ogle for more information. Visit buckeyemethodists.com to keep up on all the latest events.
* Mission and Outreach *
---
Free Trade Coffee, Tea, and Chocolates on Sale
Second Sundays of the Month
K Cups - Single Serve Cups 12 cups/box are environmentally-friendly single serve cups are made from recyclable plastic and aluminum. Enjoy all the convenience with less waste!

Tea - We are proud to partner with small scale growers in India and South Africa and Sri Lanka to build the alternative supply chain of small farmer grown tea.
Open Shelter Lunch Packing Dates
Tuesdays: Tuesday before the last Wednesday of the month beginning at 6:00pm
Thursdays: Thursday before the 3rd Friday of the month beginning at 6:00pm
Serve Breakfast at Gates Fourth UMC, 8:30-10:00
4-5 volunteers serve food and wash dishes on the 4th and 5th Saturdays of every month from 8:30-10:00 at Gates Fourth UMC. Gates Fourth is located at 119 E Gates St, Columbus OH, 43206.

Donate New & Gently-Used Clothes
King Ave ClothesShare - Infant and Toddle Sizes passed down to other King Avenue families.

Clothes for Kids - Children's sizes (new and gently-used) given to children at Hubbard Mastery School
Additional Opportunities to Help.
Visit our Community Service Page for more information about upcoming opportunities to help.


* Fellowship *
---
All-Church Luncheons
All-church lunches are generally the last Sunday of the month in Fellowship Hall at noon. It is free to eat, but a free will offering is welcome. All are welcome to the table!

Addtional Fellowship Opportunities:
Click on links below for other fellowship opportunities.
* Stay in the Loop *
---
For this and other King Avenue news, visit our website at kingave.org.
Like us on Facebook at King Avenue UMC
Follow us on Twitter at @kingaveumc
Join the Twitter chat at #KAChurchChat
Back