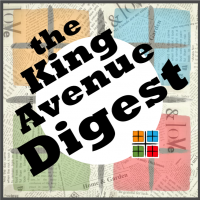 King Avenue Digest 5/12/18
May 9, 2018
Check out the featured announcements on the King Avenue Digest, then click on the links to read more. The rest of the Digest has more comprehensive happenings organized by ministry/category announcements that pertain to you. You can also download the Carillon to get the full picture!

Download the May Carillon Newsletter
Download the upcoming week's calendar
Click here for the FULL King Avenue Digest

* Featured Announcements *
---
PROM FOR ALL - Cancelled
Due to unexpected low numbers, regrettably this event has been cancelled. All those who paid for the event have been fully refunded. We are very sorry for your disappointment!

Ramp Closures May 7 – mid August
Closures starting Monday, May 7, will affect drivers on Route 315 who want to exit to Ohio State University's Wexner Medical Center and King Avenue. The exit ramp from Route 315 northbound to Medical Center Drive and King Avenue will be closed from Monday, May 7, through mid-August. Motorists can use the Goodale Street exit to Neil Avenue, or the Lane Avenue exit to Olentangy River Road as alternatives.

Special Offering to support the Huggins Fund - May 13, 20
Make checks payable to King Avenue UMC, and put Huggins Fund in the memo line. You can also donate via Realm. Check the box for Huggins Fund.

God was in this place and I, i did not know, by Rabbi Lawrence Kushner
Join John Keeny for a 4-part book study
Sundays, May 6 – 27 at 10am in the Chapel
READ MORE

Art Gallery Exhibit, Photo to Canvas
James Edinger & Robert Bazzle
April 29 – June 24, 2018
READ MORE

King Ave Players' Second Annual MISCAST CABARET
One night only – Saturday, May 19 at 8pm
READ MORE

​Mark Your Calendars! Changing the Conversation – Ling Lam​
Saturday, June 23 from 9 AM – 1 PM
"I Love You, Please Go Away! The Art & Science of Life-Giving Relationships"
Sunday, June 24 from 7 – 8:15 PM
"Pain, Shame & Resilience: Where LGBTQI+ Meets Religion/Spirituality"
READ MORE
Kidney Donor Needed
The husband of a King Avenue UMC member is in need of a kidney donor. The donor's blood type must be A or O. If you are interested in learning more, please contact the church. This donation would be handled by the Ohio State Comprehensive Transplant Center.

Our Vision Statement
"We are a community of servants called by God's reconciling grace to open doors of sanctuary, to create new avenues of ministry, to equip Christians for discipleship, to lead reconciling ministries."
* Worship *
---
Special Offering to support the Huggins Fund - May 13, 20
Make checks payable to King Avenue UMC, and put Huggins Fund in the memo line.
You can also donate via Realm. Check the box for Huggins Fund.

Prepare for Sunday by Reading the Preaching Texts
Check out the Preaching Text page on our website for listing of the scriptures to be used in sermons.

Listen to Sermons

* Faith Formation *
---
Blessed Believers – Adult Sunday School Class
Sundays at 10am in the Infant & Parent Room U2

God was in this place and I, i did not know, by Rabbi Lawrence Kushner
Join John Keeny for a 4-part book study
Sundays, May 6 – 27 at 10am in the Chapel
READ MORE

* King Avenue Children, Youth, & Family Ministries *
---
Sunday Worship Connections
9:00am Ages 4 – Grade 1
11:00am Ages 4 –Grade 3

Sunday School from 10:00 –10:45am
Age 4 – Grade 5, Godly Play, Big & Small Classrooms (Lower Level)
Grade 6 – 8, Youth Sunday School, Fellowship Hall Classroom (Lower Level)
Grade 9 – 12, Youth Sunday School, Donnenwirth Lounge (Upper Level)
Real People. Real Parenting.
Drop-in Small Group Discussion
Sundays from 10:00 - 10:45am
Infant/Parent Room
READ MORE

Youth Friday Fun Night: Columbus Clippers Game (7:15pm)
Friday, May 18 from 6:30pm-9pm
*RSVP by May 11th to Erin Kendall

High School Graduation Recognition during worship
Sunday, May 20, 9am & 11am

Summer Schedule
Worship Connections and Sunday School will be on summer break after May 27th. Stay tuned for special sum- mer activities and events for children, youth, and families!

* SPECTRUM *
---
PROM FOR ALL - Cancelled
Due to unexpected low numbers, regrettably this event has been cancelled. All those who paid for the event have been fully refunded. We are very sorry for your disappointment!

Pride 2018
June 10 - Pride Luncheon: We will be serving a variety of Rainbow inspired foods. Please contact Steve via expect.sh@gmail.com to VOLUNTEER to help with this important event.
June 15 - Pride Worship Service: This year's service will be hosted by The Broad Street UMC. The Service will start at 7:00 p.m.
June 16 - Pride Parade: Please join us for this year's Pride Parade themed Pride For ALL! Watch for details in the King Avenue Digest, Carillon Newsletter.
Pride Festival Booth
This year at the Pride Festival, there will be a booth jointly sponsored by all the Central Ohio Reconciling Methodies Churches, but King Ave will have some materials there – about our programs and the upcoming Changing the Conversation speaker and workshop.
CLICK HERE to sign up.

* Young Adults *
---
Clippers Game May 20
We will gather at Huntington Park to cheer on the Clippers! Tickets are $10 and can be reserved and paid for via Realm. If you want to make sure you can sit with us, make sure to reserve your tickets there. The game starts at 2 pm. We look forward to seeing you there!

* Campus Ministry *
---
Sundays at 10:00am
Sunday mornings in the Logos Lounge (L-1) college students come together to share in faith and process life opportunities, challenges, and questions together. Each week begins with a Bible study, devotions, and prayer. Then the floor will be open to discuss life, current events, and issues facing the church. In the midst of our discussions, we'll seek to listen to and learn from what God's Word reveals and to be respectful and supportive of one another. Come and be among "open hearts, open minds, and open doors." Here at King Ave Campus Ministry ALL are Welcome!


* Mission and Outreach *
---
Open Shelter Lunch Packing Dates
Tuesdays: May 29, June 26, July 24, August 28, September 25, October 30, November 27, December 25 2018
Thursdays: May 17, June 14, July 19, August 16, September 20, October 18, November 15, December 20

Serve Breakfast at Gates Fourth UMC, 8:30-10:00
4-5 volunteers serve food and wash dishes on the fourth and fifth Saturdays of every month from 8:30-10:00 at Gates Fourth UMC. Gates Fourth is located at 119 E Gates St, Columbus OH, 43206.

Donate New & Gently-Used Clothes
King Ave ClothesShare (boxes on the first floor) - Infant and Toddle Sizes passed down to other King Avenue families.

Clothes for Kids (boxes on the first floor) - Children's sizes (new and gently-used) given to children at Hubbard Mastery School
* Fellowship *
---
All-Church Luncheons
Last Sundays of the month in Fellowship Hall at noon.
Lit Club is held on the last Sundays of the month, 7pm, in the Logos Lounge
May 27 – Everybody's Son by Thrity Umrigar
June 17 (moved from June 24) – The Hate U Give by Angie Thomas

* The Arts *
---
Art Gallery Exhibit, Photo to Canvas
James Edinger & Robert Bazzle
April 29 – June 24, 2018
READ MORE

King Ave Players' Second Annual MISCAST CABARET
One night only – Saturday, May 19 at 8pm
READ MORE

King Avenue Players - Auditions for Annie
Sunday, September 16 at 3:00pm – Children Audtions
Sunday, September 16 at 6:30pm– Adult Auditions
Monday, September 17 at 6:30pm– Adult Auditions
Please prepare 16-32 bars from a musical, preferably NOT from the show.

* Stay in the Loop *
---
For this and other King Avenue news, visit our website at kingave.org.
Like us on Facebook at King Avenue UMC
Follow us on Twitter at @kingaveumc
Join the Twitter chat at #KAChurchChat
Back