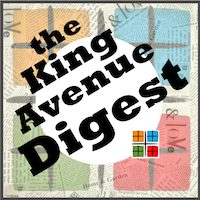 King Avenue Digest 7/17/20
July 17, 2020
We are LIVE-STREAMING! The worship team has been working hard over the past several weeks to move our Church Online worship from one pre-recorded service to LIVE-STREAMING both the 9:30 Morning Blend service and the 11:00 Traditional Worship. Although many people feel safe returning to in-person worship, we respect that many more people aren't yet comfortable doing so. Moving to a live stream for both services allows our at-home worshippers to attend their choice of service at the time it happens. As we move to live stream, understand that there are more "moving parts" that could lead to technical difficulties. Never fear! If for some reason the live stream is not working, check back later (1:00). We will always record the service on the camera as a backup so we can ensure that worship will be available for you. You can access the 9:30 Morning Blend and 11:00 Traditional Worship on our KA Church Online site, bit.ly/ka-church-online. Once there, you'll see buttons to get to the live-streamed video, bulletin, and worship components. There is also a link to our Church Online on our website, kingave.org.

Audio-Visual Volunteers Needed - We are looking for some folks who would like to learn how to help with live streaming our 9:30 and 11:00 services. You don't need a lot of experience; we will train you! Please email beth@kingave.org if you are interested.
Coffee Hour on Zoom - When we began Church Online, we also enjoyed a Zoom Coffee Hour each Sunday for folks to stay connected. With our transition to in-person and live-streamed worship, we will be moving our Zoom Coffee Hour to 12:00. Hopefully that will provide an opportunity for fellowship with one another, regardless of how you worship. Join our Virtual Coffee Hour on Zoom. Meeting ID 563 988 268
Our Sincerest Condolences - We offer our sympathies to Nancy Confar, upon the death of her husband, The Rev. Leonard Confar, who died on Saturday, July 11. A memorial service for The Rev. Leonard Confar will take place Saturday, July 25 at 11am in our Sanctuary. It will also be live-streamed on this site, http://bit.ly/ka-church-online.
King Ave Players presents Digital Miscast Cabaret, July 21, 2020 at 7:30 – You'll see some of our most talented performers from the past few years. All of them, of course, singing parts in which they would NEVER normally be cast! Go to King Avenue Players Faceook page, facebook.com/KingAvePlayers on Tuesday, July 21 at 7:30pm for the premiere. This show has traditionally been a fundraiser for the King Avenue Players ministry. In appreciation for the support King Ave Church provides King Avenue players, all donations from Miscast this year will be given to the church to support the maintenance of the building and other projects. To donate, please visit bit.ly/Miscast2020 or text KINGAVE KAP plus amount (example: KINGAVE KAP 20 for a $20 donation) to 73256. Giving is easy and secure. Thanks in advance for your generous contributions!
SAVE THE DATE for Changing the Conversation Series – This year's Changing the Conversation Series welcomes Dr.Wendy VanderWal Gritter on Sunday, October 11 from 7:00-8:00pm. A rules-based approach to sex hasn't served the church very well. The harm runs deep. There must be a better way. Dr. Wendy VanderWal Gritter will help us understand how reclaiming our agency, sharpening our discernment, sharing wisdom and mutual support, and focusing on flourishing are steps to embracing God's good gift of sex. Learn more about the program, Let's Talk About Sex: An Ethics Conversation for All, by visiting our website at kingave.org.
July Lit Club - All are welcome to join in the discussion of The Sympathizer: A Novelby Viet Thanh Nguyenon Sunday, July 26 at 7pm on Zoom. https://us02web.zoom.us/j/81766691290
Pastoral Visits to Hospital & Extended Care Facilities - At present the church building is only open for worship. Although pastors are not yet permitted to visit persons in hospitals or extended care facilities, we do want to know when persons have health concerns. Please include these in the prayer concerns or contact a pastor directly jkeeny@kingave.org or colleen@kingave.org.
Greeters and Ushers Still Needed! In order to ensure safety of everyone during our in-person services each week, additional help is needed in ushering and greeting. Don't worry if you are new to this role. You will receive training. If you're willing to lend a helping hand and a friendly (masked) face to the team, please email Beth Aiello, Director of Support Services, at beth@kingave.org. Please give your name and whether you'd like to serve at the 9:30 or 11:00 service.
Our Mission Statement - We invite, welcome and honor all people and nurture them to grow in service with Christ.
Our Vision Statement - We are a community of servants called by God's reconciling grace to open doors of sanctuary, to create new avenues of ministry, to equip Christians for discipleship, to lead reconciling ministries.
Back