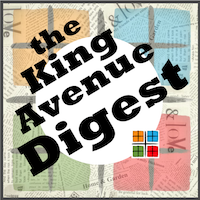 King Avenue Digest 7/24/20
July 24, 2020
Sympathies - We offer our deepest sympathies to Alan & Suzanne Sippel upon the death of their son, Ben Sippel, who died on Sunday, July 19.
Pastor Colleen Open Office Hours - We live in challenging times. One of the blessings of Christian life is that we share our burdens with one another and with God. If you are grieving, feeling dispirited, anxious, overwhelmed, or simply would like conversation and prayer, Pastor Colleen Ogle is available. She will hold Monday evenings 7-9 pm and Tuesday afternoons 3-5 pm for conversations by phone, on-line through Zoom, or in-person. Please email colleen@kingave.org to make arrangements. In the email, please indicate when you are available, whether you want to talk by phone, zoom, or in-person and you will receive a prompt response with information about how to proceed. You may also share if you need a different time to talk.
Little Free Library Volunteers Needed - In order to keep the KAUMC Little Free Library stocked with books, and engaging to the community, we need a team of volunteers, who will take turns at checking the inventory and re-filling the LFL as needed with the books that have been donated. If you are interested in supporting the LFL as a volunteer, please contact colleen@kingave.org for more information.
Coffee Hour on Zoom at NOON with Host, Roger Blocher - As the King Avenue UMC officially moves the Zoom coffee hour back to noon this Sunday, July 26th please note this on your calendar and bring your favorite mask (or least un-favorite) to the coffee hour. Those of us staying close to home won't recognize each other were we to meet up on the outside. If the mask has a story bring that too (if it doesn't have a story YET, you still have time to think up a fun one!! Hope to see you on Sunday!!! Join our Virtual Coffee Hour on Zoom. Meeting ID 563 988 268

Small Group Welcomes Young Adults - The Next Chapter virtual small group led by Amy Oblinger, meets every Wednesday at 6 on Zoom. This young adult group discusses participants' thoughts about and reactions to that week's sermon, whether it was seen in-person on Sunday or watched from the comfort of home. The session sometimes includes discussing current events and studying the scriptures, and always includes time to pray for each other. The group welcomes new participants. If you are interested, contact amylianne@gmail.com for the Zoom link.
King Ave Players presents Digital Miscast Cabaret – Did you catch Miscast Cabaret? It's not too late! You can watch the show on our YouTube Channel, and donations are still welcome. This year's VIRTUAL Miscast Cabaret included some of our most talented performers from the past few years. All of them, of course, singing parts in which they would NEVER normally be cast! This show has traditionally been a fundraiser for the King Avenue Players ministry. In appreciation for the support King Ave Church provides King Avenue players, all donations from Miscast this year will be given to the church to support the maintenance of the building and other projects. To donate, please visit bit.ly/Miscast2020 or text KINGAVE KAP plus amount (example: KINGAVE KAP 20 for a $20 donation) to 73256. Giving is easy and secure. Thanks in advance for your generous contributions!

Coronavirus hits Casa de Misericordia
On Friday July 17, one of the primary caregivers at Casa de Misericordia tested positive for COVID-19. This person has been in isolation for over a week, as are two other on-site adults who have shown symptoms of the virus but either have not yet been tested or have not received their results. Several of the children also have symptoms (sore throat, headache, and body aches) as have some of the workers who visit the casa during the day. One of these workers has received test results but the test was inconclusive.
It is fortunate that the census at the casa is currently low with about a dozen orphans on site. They have been wearing cloth facemasks and plastic face shields for several days, and are practicing social distancing and better hygiene habits as best they can. Isolation is difficult because of the shared bathrooms and living spaces but they are making every effort to slow the spread of the virus.
In other Casa de Misericordia news, Cuisine For A Cause has been cancelled for 2020. We'll try again in 2021!
The leaders at Casa de Misericordia have two requests.
First of all, please cover all the children and orphanage workers in prayer. Pray that those infected would have minimal symptoms and pain and that this would soon pass. Please pray that the illness would stay manageable and not require any hospitalizations. Please pray for good health and safety over the children who have not yet shown symptoms and that more of them do not take ill. Please pray for God to continue to provide and especially to give strength to the workers and caregivers. Pray that God would continue to guide them and give wisdom and knowledge to the doctors treating all those involved.
Second, please consider making a financial donation to Casa de Misericordia. The cancellation of Cuisine For A Cause will be a significant financial blow to the orphanage as this has been the casa's largest fundraiser for over a decade. The timing is especially bad because of the extra costs associated with the care and treatment of COVID-19 including medicines, doctor visits, testing and additional sanitation & hygiene routines. You can click HERE to Make a Donation, and don't forget to change the pull-down menu to specify that your gift be routed to Casa de Misericordia.
We are LIVE-STREAMING! The worship team has been working hard over the past several weeks to move our Church Online worship from one pre-recorded service to LIVE-STREAMING both the 9:30 Morning Blend service and the 11:00 Traditional Worship. Although many people feel safe returning to in-person worship, we respect that many more people aren't yet comfortable doing so. Moving to a live stream for both services allows our at-home worshippers to attend their choice of service at the time it happens. As we move to live stream, understand that there are more "moving parts" that could lead to technical difficulties. Never fear! If for some reason the live stream is not working, check back later (1:00). We will always record the service on the camera as a backup so we can ensure that worship will be available for you. You can access the 9:30 Morning Blend and 11:00 Traditional Worship on our KA Church Online site, bit.ly/ka-church-online. You'll see buttons to get to the live-streamed video, bulletin, and worship components. There is also a link to our Church Online on our website, kingave.org.
Audio-Visual Volunteers Needed - We are looking for some folks who would like to learn how to help with live streaming our 9:30 and 11:00 services. You don't need a lot of experience; we will train you! Please email beth@kingave.org if you are interested.
SAVE THE DATE for Changing the Conversation Series - This year's Changing the Conversation Series welcomes Dr.Wendy VanderWal Gritter on Sunday, October 11 from 7:00-8:00pm. A rules-based approach to sex hasn't served the church very well. The harm runs deep. There must be a better way. Dr. Wendy VanderWal Gritter will help us understand how reclaiming our agency, sharpening our discernment, sharing wisdom and mutual support, and focusing on flourishing are steps to embracing God's good gift of sex. Learn more about the program, Let's Talk About Sex: An Ethics Conversation for All, by visiting our website at kingave.org.
July Lit Club - All are welcome to join in the discussion of The Sympathizer: A Novelby Viet Thanh Nguyenon Sunday, July 26 at 7pm on Zoom. https://us02web.zoom.us/j/81766691290
Pastoral Visits to Hospital & Extended Care Facilities - At present the church building is only open for worship. Although pastors are not yet permitted to visit persons in hospitals or extended care facilities, we do want to know when persons have health concerns. Please include these in the prayer concerns or contact a pastor directly jkeeny@kingave.org or colleen@kingave.org.
Our Mission Statement -

We invite, welcome and honor all people and nurture them to grow in service with Christ.
Our Vision Statement - We are a community of servants called by God's reconciling grace to open doors of sanctuary, to create new avenues of ministry, to equip Christians for discipleship, to lead reconciling ministries.
Back