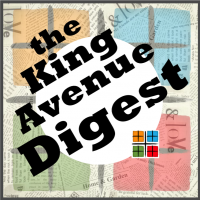 King Avenue Digest 7/6/18
July 5, 2018
Check out the featured announcements on the King Avenue Digest, then click on the links to read more. The rest of the Digest has more comprehensive happenings organized by ministry/category announcements that pertain to you. You can also download the Carillon to get the full picture!

Download the July Carillon Newsletter
Click here for the FULL King Avenue Digest

* Featured Announcements *
---
Pennsylvania Lot Repaving - STILL CLOSED
A repaving project of the Pennsylvania lot uncovered some problems that have delayed its completion, so the Pennsylvania lot is still closed this weekend! The Battelle is open for our use, and they promise that there won't be any problems if you park there.

*NOTE* – Change of 11am Worship Location
Unfortunately, the air conditioning on the main floor will take 6-8 weeks to replace. Because of the heat, the 11am worship service will move temporarily to a much cooler Fellowship Hall beginning Sunday, June 17. The 11am order of worship will remain the same. We are very sorry for this inconvenience. It is hoped that the air conditioning will be installed by late July/early August.

Multi-Generational Godly Play
Sundays: July 1 – 29, 10:00am in the Small Classroom, Lower Level
READ MORE

NNEMAP Backpack Drive
July 1 – 22
Stop in the common area of the fellowship hall to pick up a backpack tag and drop off your filled pack!
READ MORE

Fusion - Art Exhibit July and August
Art history fuses with the painting and photo styles of Kurt Reichert in the KAUMC Gallery exhibit, "Fusion." This exhibit runs from July 8 through August 22. Don't miss it!
READ MORE

Peace with Justice Offering
Sunday, July 8, 2018
READ MORE

Youth Week of Service
Monday – Friday, July 9-13
Grades 4-12 are invited to participate in our Week of Service. Participate as many times as you're able!
READ MORE

Coming Out with God Support Group
Wednesday Evenings, 7-8:30 pm July 11- August 22
READ MORE

Our Vision Statement
"We are a community of servants called by God's reconciling grace to open doors of sanctuary, to create new avenues of ministry, to equip Christians for discipleship, to lead reconciling ministries."

* Worship *
---
*NOTE* – Change of 11am Worship Location
Unfortunately the air conditioning on the main floor will take 6-8 weeks to replace. Because of the heat, the 11 am worship service will move temporarily to a much cooler Fellowship Hall beginning Sunday, June 17. The 11am order of worship will remain the same. We are very sorry for this inconvenience. It is hoped that the air conditioning will be installed by late July/early August.

Prepare for Sunday by Reading the Preaching Texts
Check out the Preaching Text page on our website for listing of the scriptures to be used in sermons.

Listen to Sermons

* Faith Formation *
---
Blessed Believers – Adult Sunday School Class
Sundays at 10am in the Infant & Parent Room U2

Summer Bible Study Great Themes of the Bible: Knowing God
Tuesday mornings, 10-11;30 am, Chapel
8 Sessions: June 12, 19, 26, July 10, 17, and August 7, 14, and 21
READ MORE

* King Avenue Children, Youth, & Family Ministries *
---
Summer Schedule
Worship Connections and Sunday School will be on summer break after May 27th. Stay tuned for special summer activities and events for children, youth, and families!

Multi-Generational Godly Play
Sundays: July 1, 8, 15, 22, and 29
10:00am in the Small Classroom, Lower Level
What is Godly Play? Based on Montessori principles, this approach helps us to explore our faith through story, to gain religious language, and to enhance our spiritual experience through wonder and play. All are welcome! This class is for all ages, 4 yrs old and above. Parents should participate with their children. Please arrive promptly at 10:00 am.

NNEMAP Backpack Drive
July 1 – 22
Stop in the common area of the fellowship hall to pick up a backpack tag and drop off your filled pack!
READ MORE

Week of Service
Monday – Friday, July 9-13
Grades 4-12 are invited to participate in our Week of Service. Participate as many times as you're able!
READ MORE

Parents' Evening Out
Friday, July 13 from 6:00 – 8:30pm
Children birth - age 4 and siblings up to age 9 welcome.
Register through Realm by Wed, July 11.

Family Camp at Camp Otterbein
Friday – Sunday, July 20-22
Pre-registration on westohiocamps.com is required. Space is limited. Camperships available by request- contact Erin Kendall for more information.

July 30 - August 3 from 6-8:30pm
VBS: Rolling River Rampage
***Registration Required in REALM by July 20th*** Open to all kids ages 4 - Grade 3 (completed grade from 2017-18 school year).
READ MORE

Mark your calendar:
August date tbd: King Avenue Family Canoe Trip hosted by the Towne and Cosner Families (Stay tuned to Realm for more details)
August 12: Worship Connections is back at 9am & 11am Services September 9: Godly Play, Youth Sunday School and Real People Real Parenting Small Group is back at 10am
September 9: Fall Kick-Off Lunch & Ice Cream Social
* SPECTRUM *
---
Coming Out with God Support Group
Wednesday Evenings, 7-8:30 pm July 11- August 22
READ MORE

* Young Adults *
---
Young Adult Cookout
Sunday, July 15 from 1:00 – 3:00 at Caitlyn and JJ Johnson's place
Check Facebook for details.

* Campus Ministry *
---
(Summer Vacation)
* Mission and Outreach *
---
Open Shelter Lunch Packing Dates
Tuesdays: July 24, August 28, September 25, October 30, November 27, December 25 2018
Thursdays: July 19, August 16, September 20, October 18, November 15, December 20

Serve Breakfast at Gates Fourth UMC, 8:30-10:00
4-5 volunteers serve food and wash dishes on the fourth and fifth Saturdays of every month from 8:30-10:00 at Gates Fourth UMC. Gates Fourth is located at 119 E Gates St, Columbus OH, 43206.

NNEMAP Backpack Drive
July 1 – 22
READ MORE

NNEMAP – A Night at the Museum Event
Saturday, September 22 at 7:00 at The Ohio History Connection (formerly Historical Society)
This event will kick off NNEMAP's 50th anniversary celebration. Come and enjoy food from the Linden neighborhood, and music from the 60's!
United Methodist Women would like you to mark your calendars...
July 15 & 29, Christmas In July, Fellowship Hall
September 22, Capital Area North Meeting, Belfountaine, Ohio
October 20, West Ohio UMW Meeting, Lancaster, Ohio
October 26 & 27, Fall Rummage Sale
Rummage Collection Sunday & Wednesday Nights
Donate New & Gently-Used Clothes
King Ave ClothesShare (boxes on the first floor) - Infant and Toddle Sizes passed down to other King Avenue families.

Clothes for Kids (boxes on the first floor) - Children's sizes (new and gently-used) given to children at Hubbard Mastery School
* Fellowship *
---
All-Church Luncheons
Last Sundays of the month in Fellowship Hall at noon.

Lit Club is held on the last Sundays of the month, 7pm, in the Logos Lounge
July 29 – LIttle Fires Everyone by Celeste Ng

* The Arts *
---
Fusion - Art Exhibit July and August
Art history fuses with the painting and photo styles of Kurt Reichert in the KAUMC Gallery exhibit, "Fusion."
READ MORE

King Avenue Players - Auditions for Annie
Sunday, September 16 at 3:00pm – Children Audtions
Sunday, September 16 at 6:30pm– Adult Auditions
Monday, September 17 at 6:30pm– Adult Auditions
Please prepare 16-32 bars from a musical, preferably NOT from the show.

* Stay in the Loop *
---
For this and other King Avenue news, visit our website at kingave.org.
Like us on Facebook at King Avenue UMC
Follow us on Twitter at @kingaveumc
Join the Twitter chat at #KAChurchChat
Back