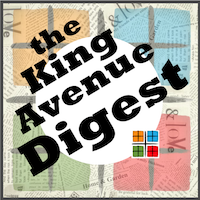 King Avenue Digest 7/6/19
July 5, 2019
The King Avenue Digest highlights the biggest "good of the order" events, and those that are most close at hand. Look through the articles on our Home Page (kingave.org) or within ministry and mission pages for more comprehensive happenings that pertain to you.

CLICK HERE to download the July 2019 Carillon Newsletter.

* This Week's Highlights *
Let's Talk about the Building and Finances!
On Sunday, July 14 at 10am in the Chapel, Pastor Keeny will conduct a Q&A on physical needs at King Avenue in light of the suspension of the Capital Campaign.
Faithful Footprints: Home Energy Savings Program
The Faithful Footprints program is offered exclusively to Houses of Worship like King Avenue who care about energy stewardship. It gives you the opportunity to sign up for a home energy audit to identify ways to lower your natural gas usage and increase the energy efficiency of your home. What's more, for every home energy audit completed, King Avenue will receive $20.
READ MORE

NNEMAP Backpack Drive Starting Sunday, June 30
King Avenue will again kick off our backpack program on Sunday, June 30th. We hope to bring in 200 bags for grades K-6 only. Our back packs will be distributed to students at Windsor Elementary in South Linden.

Summer Choir for 11:00 Worship
Our Summer Choir will provide special music for our 11 AM worship services. We will meet at 10:15 in the Choir Room on July 7, July 14, and July 28 for a short rehearsal. Please join us! For more information, contact Chris McManus, Minister of Music.

July Faith Formation (Adult Sunday School) – Act of God
The United Methodist Church recognizes baptism as an act of God. Let's talk about what the means, share our stories, ask our questions, and find ways to live out our baptismal covenant. This class is for both those who have been baptized and those who have not. We will meet in the Chapel on Sundays in July during the 10am Sunday School hour.

August Faith Formation (Adult Sunday School) – Hymns & History
Hymns and History is back for another summer! We'll go on a journey through the stories behind the songs in our hymnal as we take a look at the composers and the history that were part of the creation of some of our most beloved tunes. This year, we'll be exploring the Hymnal and The Faith We Sing. We will meet in the Choir Room on Sundays in July during the 10am Sunday School hour. Join us as we make a joyful noise!

Wednesday Afro-Caribbean Dance
Wednesdays, June 19 – July 24 (excluding July 3) from 6:30-8:00pm in the Chapel
Led by Meka Edmondson
$10/class or $40/all five classes
READ MORE and REGISTER

Thursday Summer Small Group Book Study: The Art of Spiritual Listening with Colleen Ogle
Does God seem remote or abstract to you? Do you want to learn to recognize God's presence in the midst of your daily life? If so, this summer group may be helpful to you. We will meet select Thursdays through this summer to read and work through the exercises in Alice Fryling's short book, The Art of Spiritual Listening: Responding to God's Voice Amid the Noise of Life. In each of eight sessions, we will focus on one scripture and discuss a different theme. In order to prepare for each session, participants will read a scripture and do the exercises in a chapter. There will be about 1 ½ hrs of preparation for each session.
READ MORE
July 29-August 1 – Life Craft, A Multifaceted Adult Creative, Soulful, Cerebral Nourishment Event
Most of us can think back to our days as kids in Vacation Bible School with fondness. Faith Formation and Worship and Arts Committees are joining forces to offer adult classes that will occur simultaneously with Children's Vacation Bible School (Monday, July 29 – Thursday, August 1). There will be two sessions each night and different offerings on each night. Click on the link below for session descriptions, session dates, and registration links.
READ MORE
King Avenue Church Weekend Camp
King Avenue Church will have an entire weekend just for us at Camp Otterbein on July 19-21. Camp Otterbein is about an hour from Columbus in Logan, Ohio, part of the scenic Hocking Hills region. The opportunity to spend the weekend there is open to anyone from King Avenue and their invited guests. (This camping weekend was formerly called "Family Camp" and combined with other churches, but this year we are extending the incredible experience to all King Avenue members during an exclusive weekend for our church only!) Financial Assistance is available for anyone that needs it (full or partial camperships available). A camplship form must be filled out and turned in the Erin prior to registration.
READ MORE
Register for Vacation Bible School
Registration is open for this year's Vacation Bible School! VBS is designed for kids age 4 – Grade 3, and will run from July 29 through August 3 from 6-8:30pm. Activity leaders, group leaders and youth assistants starting at Grade 4 are encouraged to sign up to be a part of the fun!
READ MORE
KACYFM Happenings:
READ MORE about this and other KACYFM Happenings for July
Mon - Fri, July 8- 12: Youth Week of Service
Fri - Sun, July 19 - 21: King Avenue Camp at Camp Otterbein
Fri - Tues, July 19 - 23: Sr. High Youth Peace with Justice Trip to Washington DC
Fri, July 19: Registration Deadline for Vacation Bible School
Fri, July 26: Parents' Evening Out
Mon - Fri, July 29 - Aug 3: Vacation Bible School
Worship Connections will return in August and Sunday School will return in September.

Thursday, July 25 at 11am – Retirees to the Columbus Clippers Game
Save the date for the Retiree Ministry group's July outing to watch the Columbus Clippers take on the Scranton Wilkes-Barre Railriders. Gametime is at noon. Rides will be available leaving from the church at 11 am. Tickets will be on sale for $7 at church on July 7 and 14th.

Spectrum LGBTQI+ Fellowship – Christmas in July
We're going to host a Family Movie Night on July 20, 2019, starting at 6:00. Over the next several weeks, you'll have an opportunity to vote on a seasonal movie classic for us to watch together. We'll have snacks, Christmas music, and lots of holiday cheer to share, so we hope to see you there! (We'll ask folks to RSVP on Realm and FB if you're planning on attending so we can accurately plan food and drinks.
READ MORE

Sunday, August 11 at 4:05pm – Spectrum to Columbus Clippers Game
Spectrum, in conjunction with Family Pride Network, King Avenue Children, Youth & Families Ministry, and Young Adult Fellowship has scheduled a trip to see the Columbus Clippers play in Huntington Stadium. The date is Sunday, August 11 at 4:05pm. The Columbus Clippers will be playing the Buffalo Bisons. Also Jake "The Diamond Dog" will be at the game. 
 
Box seat tickets behind 3rd base are $14.70 each. In order to be successful in getting box seats in a block so that we can all sit together, deadline to register is Sunday, July 28th.
REGISTER & PRE-PAY FOR TICKETS
NNEMAP Parking at the Ohio State Fair
NNEMAP parks cars for the Ohio State Fair. King Ave. has adopted Thursday, July 25th as our day to volunteer. We need 8 volunteers to do shifts from 8-noon (3), noon to 4 (3) and 4 to 8 (2). Let us know by emailing director@nnemappantry.org.
NNEMAP Golf Scramble - Play to Provide. Drive to help others Thrive. Putt to Cut hunger!
What? NNEMAP Golf Scramble - Celebrating 50 Years of Service
Where? Pinnacle Golf Club, Grove City, OH (visit www.pinnaclegc.com)
When? September 30, 2019
* DOWNLOAD FLYER *
Lit Club
All are welcome to Lit Club on the last Sunday of the month at 7pm in the Logos Lounge.
July 28 Lit Club book is Eleanor Oliphant is Completely Fine, by Gail Honeyman

Changing the Conversation Series 2019
Mark your calendars for the Changing the Conversation Series, October 12 and 13. King Avenue welcomes author Austen Hartke, a transgender person of faith.
READ MORE
Our Mission Statement
"We invite, welcome and honor all people and nurture them to grow in service with Christ."
Our Vision Statement
"We are a community of servants called by God's reconciling grace to open doors of sanctuary, to create new avenues of ministry, to equip Christians for discipleship, to lead reconciling ministries."
* Our Future *
---
In response to the United Methodist Church Special Session of the General Conference and the passage of the Traditionalist Plan, we will be actively supporting our LGBTQIA+ and studying a future that honors, nurtures, and includes ALL. King Avenue will remain a welcoming, reconciling, and serving church which shares God's love with ALL! King Avenue Church will not change what it is and what it stands for. Although we are passing through a dark storm in our denomination, there is hope – within the United Methodist Church with necessary progress made towards full inclusion, or even in a rebirth of a new Methodist denomination.
READ MORE


* Worship *
---
Worship at King Avenue Church
King Avenue has two different worship services each Sunday. Worship each Sunday is at 9:00am, and 11:00am.
9:00 Morning Blend: This is a smaller, more informal service is in Fellowship Hall. Coffee and donuts are available before and throughout the service. The music is eclectic and the atmosphere is friendly and relaxed.
11:00 am Traditional Worship: This traditional service in the sanctuary featuring the music of our wonderful Chancel Choir and our very talented organist. Sign Language Interpretation is available the 2nd and 3rd Sundays of each month. Dress is casual.
Additional Opportunities for Adults, Children, and Families
8:45–12:15 Nursery Care: Birth – Age 3 Nursery (Upper Level)
9:00 Morning Blend Worship Connections; Age 4 - Grade 1 (Classroom L4)
10am Sunday School Hour (Breaks for Summer)
Sr. High (Grades 9-12) Donnenwirth Lounge (Upper Level)
Middle School/Jr. High (Grades 6-8) Fellowship Hall Classroom (Lower Level)
Godly Play (Grades 2-5) Big Classroom (Lower Level)
Godly Play (Ages 4- Grade 1) Small Classroom (Lower Level)
Adult Sunday School Watch the website for specific offerings as these vary
11:00am Worship Connections (Breaks for Summer)
Age 4 – 5 (classroom L5), Grades 1 - 3 (classroom L4)
Prepare for Sunday by Reading the Preaching Texts
Check out the Preaching Text page on our website for listing of the scriptures to be used in sermons.
Listen to Sermons
Listen from our website

* Faith Formation *
---
Faith Dive Sunday School – Ongoing Adult Class
Faith Dive Sunday School class meets at 10:00 am in the Logos Lounge (L1).
READ MORE

Additional Faith Formation Classes
Visit our Adult Faith Formation Page for more information about additional faith formation opportunities.
* King Avenue Children, Youth, & Family Ministries *
---
King Avenue Children, Youth, and Family Ministries
Worship Connections
Kids Ages 4 – Grade 3
9am - Big Classroom (Lower Level)

11am - Big and Small Classrooms (Lower Level)
Sunday School Hour at 10am – There's Something for Everyone!
Sr. High (Grades 9-12) Donnenwirth Lounge (Upper Level)

Middle School/Jr. High (Grades 6-8) Fellowship Hall Classroom (Lower Level)

Godly Play (Grades 2-5) Big Classroom (Lower Level)

Godly Play (Ages 4- Grade 1) Small Classroom (Lower Level)

Real People Real Parenting Small Group Fireside Room (Upper Level)
Family Service Opportunities
Looking for ways for your family to serve at King Avenue? Ask Erin for more information and to get started!
Volunteer with Worship Connections or Sunday School (See Gwen DeRosa for more details)

Acolyte once a month at Morning Blend or 11am Worship (Kids Grade 4-12)

Become a Greeter once a month for Morning Blend or 11am Worship (All Families, All Ages)

Help with Morning Blend Family Tables (All Families, All Ages)

Participate in a Youth Service Project (Kids Grades 6-12)

Join the King Avenue Lunch Packing Group (All Families)

Volunteer at NNEMAP (All Families)
Real People. Real Parenting.
All parents are welcome Sundays from 10:00-10:45am in the Fireside Room.
READ MORE

Additional Children, Youth, and Family Ministry Happenings.
Visit our KACYFM Page for more information about upcoming events.




* SPECTRUM *
---
Coming Out with God Support Group
Coming Out with God is an adult, faith-based discussion group offering support and encouragement for anyone in the "coming out" process. We use various resources that emphasize God's grace and unconditional love. The group focuses on and strives to deepen our identity in Christ as we come out to family, friends, coworkers, etc. We welcome all, whether you are in need of support or you wish to encourage others by sharing your own "coming out" experiences. We meet in six-week sessions Wednesdays, 7pm at King Ave United Methodist Church. Acknowledging that "coming out" is more a process than an event, you are welcome to attend the group in the way that fits your needs: attending a six-week session, dropping in as desired, or becoming an ongoing member. For questions and meeting schedule, contact Mary Bostian, kingcowg@gmail.com.

Additional SPECTRUM Happenings.
Visit our SPECTRUM Page for more information about upcoming events.
* Campus Ministry *
---
GRAD CHAT - Graduate and Professional Student Lunch
Second Sundays of the month at noon in Fellowship Hall. Contact Colleen Ogle for more information. Visit buckeyemethodists.com to keep up on all the latest events.
* Mission and Outreach *
---
Free Trade Coffee, Tea, and Chocolates on Sale
Second Sundays of the Month
K Cups - Single Serve Cups 12 cups/box are environmentally-friendly single serve cups are made from recyclable plastic and aluminum. Enjoy all the convenience with less waste!

Tea - We are proud to partner with small scale growers in India and South Africa and Sri Lanka to build the alternative supply chain of small farmer grown tea.
Open Shelter Lunch Packing Dates
Tuesdays: Tuesday before the last Wednesday of the month beginning at 6:00pm
Thursdays: Thursday before the 3rd Friday of the month beginning at 6:00pm
Serve Breakfast at Gates Fourth UMC, 8:30-10:00
4-5 volunteers serve food and wash dishes on the 4th and 5th Saturdays of every month from 8:30-10:00 at Gates Fourth UMC. Gates Fourth is located at 119 E Gates St, Columbus OH, 43206.

Donate New & Gently-Used Clothes
King Ave ClothesShare - Infant and Toddle Sizes passed down to other King Avenue families.

Clothes for Kids - Children's sizes (new and gently-used) given to children at Hubbard Mastery School
Additional Opportunities to Help.
Visit our Community Service Page for more information about upcoming opportunities to help.


* Fellowship *
---
All-Church Luncheons
All-church lunches are generally the last Sunday of the month in Fellowship Hall at noon. It is free to eat, but a free will offering is welcome. All are welcome to the table!

Addtional Fellowship Opportunities:
Click on links below for other fellowship opportunities.
* Stay in the Loop *
---
For this and other King Avenue news, visit our website at kingave.org.
Like us on Facebook at King Avenue UMC
Follow us on Twitter at @kingaveumc
Join the Twitter chat at #KAChurchChat
Back