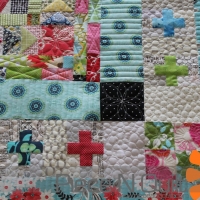 King Avenue is ALL TOGETHER - Quilt Project
April 24, 2017

KING AVENUE IS ALL TOGETHER!
---
"ALL TOGETHER" is the theme of this year's stewardship campaign at King Avenue United Methodist Church. To show our congregation members' diversity and uniqueness and that we can work "all together", we are going to create a King Avenue quilt.

During the month of May, we ask that each person who attends King Avenue bring a clean, unstained, preferably used piece of fabric that will be used in the quilt (ie shirt back, children's clothing). The fabric does not need to be very large. Any size will do up to 8 1/2 by 11 inches (the size of regular copy paper). The color does not matter. What matters is that each person, regardless of age, contributes a piece of cloth. Each Sunday the ushers will bring the collected fabric with the offering forward to the altar.

Once the fabric is collected, Evy Hummon and Katie Shelley will work during the summer with volunteers who want to help put the quilt together. Eventually, the quilt will be donated to a needy family.

Collection boxes for your fabric will be in the milling area and Fellowship Hall during the four Sundays in May.

When we are ALL TOGETHER we shall create a work of art.
Back