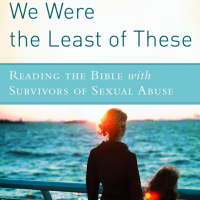 Maynard UMC Book Chat & Conversation
November 22, 2017

Book Study and Conversation Group
We Were the Least of These: Reading the Bible with Survivors of Sexual Abuse
---
Women and men of every age walk this earth bearing the wounds of sexual and domestic abuse. You may well be one. Led by survivors who are members of Maynard Avenue UMC, this group will study the book We Were the Least of These by Elaine Heath, a United Methodist pastor and survivor, who wants everyone to discover the healing, hope, and freedom that this re-reading of scripture can bring to your life. This class is for only for persons who have experienced or are experiencing sexual or domestic abuse and confidentiality will be a hallmark. The only cost will be that of the book which can be ordered for you, or you can purchase online.

The initial gathering will be on Thursday, December 7 at 6 p.m, and will meet twice monthly. The time and day may be adjusted according to the needs of the participants.
Location: Maynard Avenue UMC, 2350 Indianola Avenue, Columbus.
No registration necessary.
If you would like more information you may contact Patricia Wagner at pwagner798@sbcglobal.net.
Back