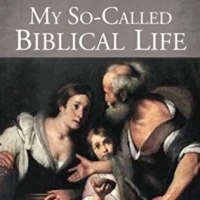 "My So-Called Biblical Life" Book Chat & Book Signing
September 22, 2017

Author's Book Talk - Dr. Julie Parker
Sunday, October 29, 10:00am in the Chapel
Book signing following the 11:00am service.

My So-Called Biblical Life
Imagined Stories from the World's Best-Selling Book

Julie Faith Parker is assistant professor of Old testament at Trinity Lutheran Seminary. She is an ordained minister in the United Methodist Church and holds a Ph.D. in Old testament/Hebrew Bible from Yale University. Her previous book, Valuable and Vulnerable (2013) analyzes texts related to children in the Hebrew Bible. Dr. Parker worships at King Avenue UMC during the academic year. This will be a wonderful opportunity to hear from one of our congregation's gifted leaders!
Back