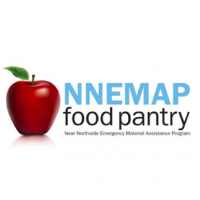 NNEMAP
January 30, 2013
Due to the generous contributions from the holiday giving of our 32 churches, NNEMAP was able to finish the year in the black! What a challenging and wonderful year we have had. God has been taking care of NNEMAP through His loving flock! Every Monday, contributions from King Avenue are delivered to a very appreciative NNEMAP, stocked on the shelves, and mostly gone by the end of the day. What would we do without your generosity? God bless you King Avenue UMC!
This Month's Needs
Beverages— bottled water, flavored water, Gatorade, powdered milk. Canned meats with pop tops. Powder detergent. Watch the bulletin insert for assignments by last name.
At times we get large vessels of liquid detergent or oil and need small plastic containers or jars to break it down. Please save your containers with secure fitting lids for this purpose— 6–12oz would be great.
Back