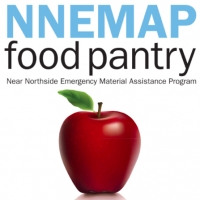 NNEMAP Spring News
March 19, 2017
NNEMAP FOOD PANTRY
---
Come break bread with us to celebrate a great year at NNEMAP at the Volunteer Luncheon held April 29 11:30 at St Francis of Assisi Catholic Church, 386 Buttles Avenue (corner of Buttles and Harrison, west of Neil Ave). Prepared to be dazzled by Richard Gregory, the prodigy who entertained us at Harmony for Hunger last November. No need to RSVP just show up with a dish to share and a guest if you wish. We have a lot to celebrate!

NNEMAP does more than help feed our hungry neighbors! South Linden, where NNEMAP is located, has a high infant mortality rate: three families lose a baby every week in Franklin County. African American babies are dying at twice the rate of white babies. Through the OSU School of Nursing Certified Health Workers are being trained to work with local agencies and NNEMAP has one of them. Rebecca Hairston has begun her work at NNEMAP identifying pregnant women who come to the pantry and she is reaching out into the community to make sure infants born can Celebrate One (their first birthday).

Diapers of all sizes are needed at NNEMAP. These are not available through the Food Bank.

Items always needed at the pantry are: toilet paper, packages of sugar, detergent, flour, cat food/dog food, canned vegetables and feminine hygiene items, dental items, razors, and shampoo.
Back