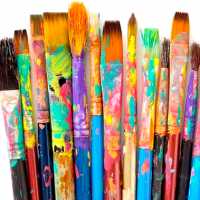 Photo to Canvas Art Exhibit
April 27, 2018

Photo to Canvas
James Edinger & Robert Bazzle
April 29 – June 24, 2018

James Edinger: Will be showing paintings and drawings from his journey through the world of recovery through art including many paintings from Robert's photos. Through his life he has never been a creative person until he learned in recovery that you must replace all the negative with positives. That is when he joined the Columbus Cultural Arts Center and his work will show his progress from never doing art 5 years ago up to today.

Robert Bazzle: the owner and photographer for Picstar Photography. He is based out of Columbus, Ohio where he has been studying at Columbus State for several years learning all the facets of photography to hone his vast skills while getting a degree in Digital Photography. He started photography, non-professionally, when he was a young kid growing up in the 80's and he realized that he enjoyed capturing the treasured moments of someone's life. His style has been described by his clients as edgy, artistic, thoughtful, and genuine. He has a special place in his heart for candid shots and black and white photos. Weddings are very hectic, but are among his favorite events to shoot. Capturing those moments to be preserved for life is very fulfilling. Robert's goal one day will be to shoot models for a magazine or promotional material. He would like to specialize in male photography. He seriously believes there is a deficiency of male models and he thinks it is their turn to stand in front of the camera and model. Robert FIRMLY believe that EVERYONE, straight, gay, any color, any race, and any age or body type, deserves the right to be shot, photographically speaking of course. It is his pleasure to make the YOU feel happy and to look your best in the photographs you will pass down to the generations to come.
Back