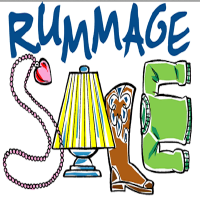 Preparations for Spring Rummage Sale
April 12, 2019

Preparations for United Methodist Women's Spring Rummage Sale
---
The spring rummage sale is Friday, May 10 and Saturday, May 11.

Sorting dates in preparation for the sale are April 8, 11, 15,18, 22, 25, and 29. The May sorting date is May 2. Set up for the sale is Sunday, May 5, after Morning Blend and continuing after second service. Work week is May 6 thru 9. Work week hours are 9:30 am to 3 pm daily and evening hours are 6 pm to 8 pm.

Volunteers are needed and welcome, both men and women. If you can help during rummage set up week or on the days of the sale contact Sue Swenor – swenor22@yahoo.com or just show up!

Your baked goods are needed for our famous Calorie Counter concession. They need to be delivered to Fellowship Hall on Thursday evening, May 9, (a convenient time for choir members) or on Friday morning, May 10, or Saturday morning, May 11.

Thank you in advance for your continued support. We cannot do this without the support of the full church.
Back