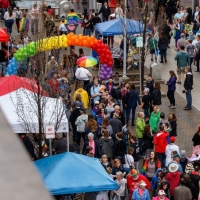 Reconciling Methodist Churches - Pride Booth Signup
May 31, 2018

Pride Festival Booth
---
This year at the Pride Festival, there will be a booth jointly sponsored by all the Central Ohio Reconciling Methodies Churches, but King Ave will have some materials there – about our programs and the upcoming Changing the Conversation speaker and workshop.

Below is a link to sign up for a shift in the booth.
CLICK HERE to sign up.
Back