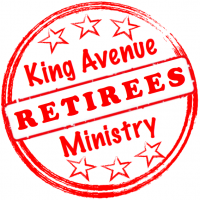 Retiree Fellowship - October 2019
September 28, 2019
Retiree Fellowship October Gatherings
---
Join your fellow retirees for Hallow-sgiving planning on Wednesday, October 16, 11am-1 pm.

During the months of October and November, the Retirees Ministry will be serving the children of our church and community in the nicest way possible—by planning and leading Halloween games and crafts and giving out treats for King Avenue's Trunk or Treat AND by preparing Thanksgiving food, fun, and games for Hubbard Elementary School 2nd graders. We will gather in the Fellowship Hall to make plans, sample and select the games and activities, and eat lunch together. Bring a sack lunch. Beverages will be provided. (Bring a favorite childhood candy, if you like!)

* Trunk or Treat Service Activity—Sunday, October 27, 1-2:30 pm in the KA Parking Lot (you can stay after 11am worship for the All-Church Lunch.)

Mark your calendars – Hubbard Second Grade Day of Thanksgiving will take place Monday, November 25 from 9am-12:30pm.
Back