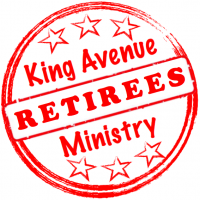 Retirees Ministry
May 31, 2019
Retiree Ministry Events June and July
---
Wednesday, June 19 from 11am-1 pm – School Daze
Join us for the next Retiree event on Wednesday, June 19 from 11am - 1pm and come ready to share a favorite story (or a laugh) from your years in school. Bring a photo of yourself in school if you can find one! Some of our favorite teachers will share their insights and stories about "today's" students. Bring your memories, your sense of humor, and your lunch. Maybe dust off that old lunchbox and pack it with favorite goodies. Thankfully, we're meeting in June, so no walking through the snow uphill…

Thursday, July 25 at 11am – Take Me Out To the Ball Game
Save the date for the Retiree Ministry group's July outing to watch the Columbus Clippers take on the Scranton Wilkes-Barre Railriders. Gametime is at noon. Rides will be available leaving from the church at 11 am. Tickets will be on sale for $7 at church on July 7 and 14th. More details in the July newsletter!
Back