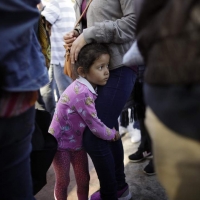 September Special Offering - Helping Separated Immigrant Families
August 25, 2018

Special Offering for September will help separated families in Ohio.
Sunday, September 16
---
Starting Point Outreach Center in Willard, Ohio offers a wide range of supportive programs that meet critical community needs. It is a faith-based ecumenical and community ministry started by First UMC of Willard. This small town is home to many immigrants who perform seasonal agricultural and landscaping labor, including workers at the Corso Flower and Garden Center. The I.C.E. raid of last June resulted in many separated families. Along with many other services, Starting Point connects families to immigration legal services and has helped reunite families.

Don Peeler, Executive Director and Founder of Starting Point, will share a witness during worship and an informational presentation about Starting Point's work during the 10 am education hour on Sunday, September 16 in the Chapel.

Click here to learn more about the 3-Part Speaker series on this topic.
Back