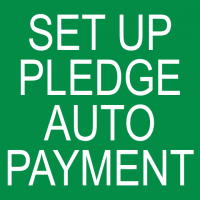 Setting Up Recurring Pledge Payments
December 15, 2017
Thank you for generously making a 2018 pledge to support the operations and ministries of King Avenue United Methodist Church. In the past you were enrolled in the church's Auto-Debit Contribution option, where your donations were automatically deducted from your checking account. We now offer a similar program, but with the added option of using a debit or credit card, through Vanco! It's SAFE and EASY.

Please note that the ACH system of withdrawals in which you are currently enrolled will automatically terminate on 12/31/2017. It will be replaced by the Vanco system of giving.

We offer this replacement program through Vanco because the deductions are now controlled by YOU. You no longer need to contact the church office to make a change to your donations. You can pick the exact day or date you want your recurring donations to be made. Your banking information is no longer stored in the church finance office.

Please follow these instructions to set-up your automatic, recurring donations through Vanco:
Visit the church's website at www.kingave.org
Click the GIVE NOW button found near the top of the page (or use this link!)
Click the Create Profile button under Create Your Online Profile (please make note of the email address and password as this will be necessary to make changes in the future)
Enter your profile information and create a password
Click Add Transaction
Enter your donation(s) amount(s) and chose donation frequency and donation start date. Please note: if you want the donations to reflect against your 2018 pledge, the dollar amount needs to be entered into Operating Fund and/or Buiding Fund field(s). Refer to your pledge card or contact cyndi@kingave.org if you have questions.
Click continue
Chose an account from the dropdown under Donation Information. You have the option of Credit/Debit, Checking, or Savings. Enter the pertinent information in the provided fields.
Verify the "I'm not a robot" feature.
Click the Process button.
Once the process is complete, you will get a verification page with a confirmation number. Save this for your records. You can also log into Vanco or look at your giving in Realm at any time.

Do not hesitate to let me know if you have questions by email at charlene@kingave.org. Again, thank you for supporting our church!

Charlene Dubin
Stewardship Secretary
Back