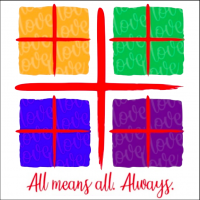 SPECTRUM Announcements - May & June 2019
April 12, 2019
SPECTRUM News for May 2019
---
Hello, friends! Here's an update on what your Spectrum team has in the works.

TEE SHIRTS! GET YOUR WHITE HOT TEE SHIRTS! Thanks to the artistic efforts of Sheryl Lazenby, as well as those of you who voted on Facebook for our slogan, we have a brand-new tee shirt design, pictured here, ready to roll. Your Spectrum team will be selling these new shirts after Morning Blend and before and after the 11:00 service at a cost of $25 for adults, $20 for kids. (They are a bit more expensive than in years past, but they're a softer, kinder, gentler fabric! HOORAY!) We'll accept checks, cash, and card swipes for payment. Come visit us on 4/14. 4/28, 5/5, 5/13. and 5/20. Remember, all the cool kids will be wearing the new shirts! (We also have a supply of the gray shirts that we'd be willing to part with at a low, low cost of $5 each!)

SIGN-o de Mayo will happen on May 5 in the Parlor following the 11:00 traditional service. We'll be making new signs for the Pride parade (June 15) and enjoying some yummy tacos. There's a sign-up on Realm, so if you plan to attend the sign making fun, please let us know!

The Pride luncheon will be June 9, 2019. Please sign up on the backs of the Welcome cards towards the end of May or on Realm for a volunteer time. Many hands make light work, people!

We'll detail more Pride Week activities in the June Carillon. This year's theme is "The Power of Pride!" We'll also look a few months into the future and share some summer fun your Spectrum team is cooking up. Watch this space!

Have a lovely May, dear King Avenue family!
Back