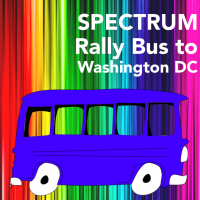 SPECTRUM Rally Bus to DC
April 11, 2017
GET ON THE SPECTRUM RALLYBUS !
---
Organizers of the Washington D.C. Pride Festival in conjunction with several other organizations are working to bring together the National Pride March. This will take place on Sunday, June 11 on the National Mall in Washington D.C.

As is our tradition and in the spirit of unity and one voice for many and specifically our LGBTQ Community, King Avenue UMC SPECTRUM is organizing a coach bus trip to Washington D.C. We will join thousands from across the country for the Sunday, June 11, 2017 National Pride March On Washington.

This event is taking place the week before we in Columbus celebrate our own Pride activities, but hope that we can gather enough interest to be represented in this historic national Pride event.

More information will be forthcoming as we finalize the details, but here are a few thing to keep in mind:
A Rallybus is crowd-funded and this bus is initially by invitation. We'll open it to King Avenue members and friends, then possibly to others, if there is room.

We've made a minimum requirement of 40 riders for the Rallybus to happen. Any fewer and the trip will cancel and no one will be charged.

With 40 riders, the cost will be $100 each. With the maximum of 55 riders, the price drops to $73 each, with adjustments made for every number in between. (the more participants, the less expensive the ride)

The bus will pick us up at King Avenue (or possibly Battelle, TBA) and leave Columbus at 1:06 AM. Sunday morning and arrive in Washington DC at 9:30 AM. The bus will meet us at 6:00 PM at the arranged meeting place in DC and we will arrive home in Columbus at 2:23 AM. (Monday morning, really) You might want to consider using one of your vacation days at work on Monday.

You may have food and beverages on the bus, but need to clean up your space before leaving when we get back to C-Bus. No glass containers. You may also leave things on the bus while in DC. (ex. Pillow, blanket....)
Stay tuned! More details to come as we finalize this great trip.
Back