Stewardship 2020 Campaign
October 31, 2019
Stewardship 2020 Campaign
Once you prayerfully consider your pledge for 2020, you can record your pledge in Realm and set up your giving electronically. The 2020 pledge runs from 01/01/2020 to 12/31/2020.
Log into Realm.

Click on Giving in the left-hand menu.

Click on the +Pledge button

Fill out the particulars... the amount, fund, frequency, and date range for giving.

Click Save Pledge OR click Save & Set Up Online Gift if you want to set up autopay at the same time.

If you select Save & Setup Online Gift, you will be directed to payment information.
2020 Stewardship Campaign
Pledge Sunday, October 27
"I see King Ave, the physical structure, remaining a beacon for the neighborhood and community where critical conversations of the day are held. I see the congregation being more diverse than it is today." — Bill Brownson
" I would like our church to lead the way in rejecting a version of Christianity that judges or condemns, or imposes rules that limit God's love." — Ronda Shamansky

"I see KA as having been the leading church to move towards an all inclusive organization of like minded churches, continuing to be a strong advocate for local , national global social justice issues, and being a church parent to another new church start." — Linda Guyton

"I see a place where people matter more than polity. I see a thriving community of believers who are unbound by doctrine and are transforming the world into the kingdom of God." — Beth Aiello

"I'd love to see a church that is on re to tell the Columbus community about Jesus and His great love and mercy. I'd love to see a church that honors the great traditions of the church, but is progressive in bringing people into its fold." — Jason Bradley-Krauss

"I see a culturally and age diverse congregation intent on studying and implementing God's intended world of Love, respect and freedom Everywhere it touches on Earth." — Mike Horvath

"I see our church living the life of Jesus in our actions. Those actions will be based on serving the needs of the church members, our community and the world by focusing on the di erences we can make with our presence, gifts and talents. We will be the Church of ACTION!" — Bob Barnes

"I want our church to be one that challenges us all to be better than we are and expects us to be a living witness of the hands of Christ into the far reaches of this hurting world. I want a church that loves beyond measure the world that we walk into every day." — Trecia Holdren

"I hope we have the vibe of the Kroger at King and High. Everyone goes there to meet their need for food, everyone is welcomed by whomever they encounter, and everyone leaves having ful lled the need that brought them in the door." — Barbara Riley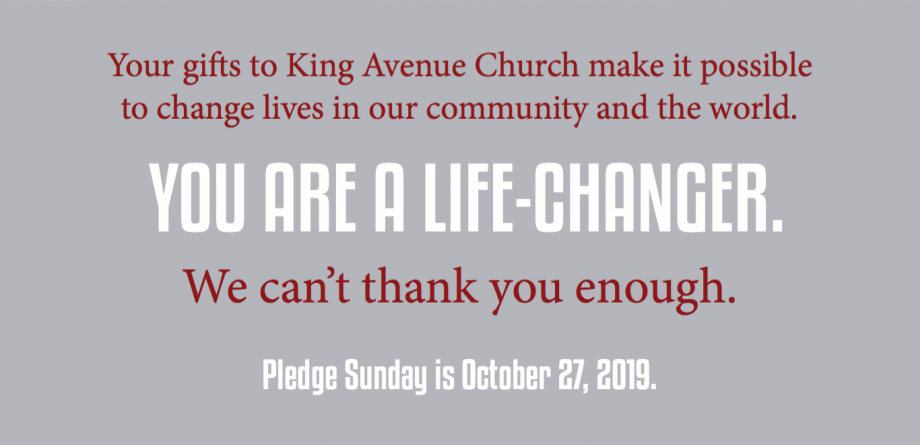 Back